The German word "Ziege" meaning "goat" in that language can shade into negative connotations, as in "dumme Geiss", which means "silly goat" (or worse). From there it is not much of a leap to "Zicke,"  in American English a "priss" — an uptight person. However, in Italian the word for goat is "capra" and the sound alone is charming. Then calling something "The Capra" is high English style, and this is what happened with a new boutique hotel in the village of Saas-Fee named – The Capra. Alone the daring choice of moniker was reason enough for us to make the trip to Wallis Canton (Valais)….
But just how do you come up with a hotel name like "The Goat"?
The Capra Hotel
The Capra Hotel in the heart of Saas-Fee in the Swiss Alps was opened a year ago by a couple of English friends. It was a "soft opening" and they used the ensuing year to tinker with the construction and business operations until the hotel had its official grand opening in December 2015 under hotel director Raphael Herzog and assistant director Claudia Schibler.
The English were so taken with the plucky black-and-white Wallis mountain goats that they had the name for their little luxury oasis in no time at all.
And this is how you encounter the goat again in the 14 generously appointed suites: You very well may use the light switch of turn the red "Please do not disturb" light on, but you can also be really authentic and hang a small wooden goat on the doorknob. Somehow, the little goat time and again sneaked into our photos. Walter loudly tried to shoo it away, but to no avail — it still managed to make it into this or that picture :-)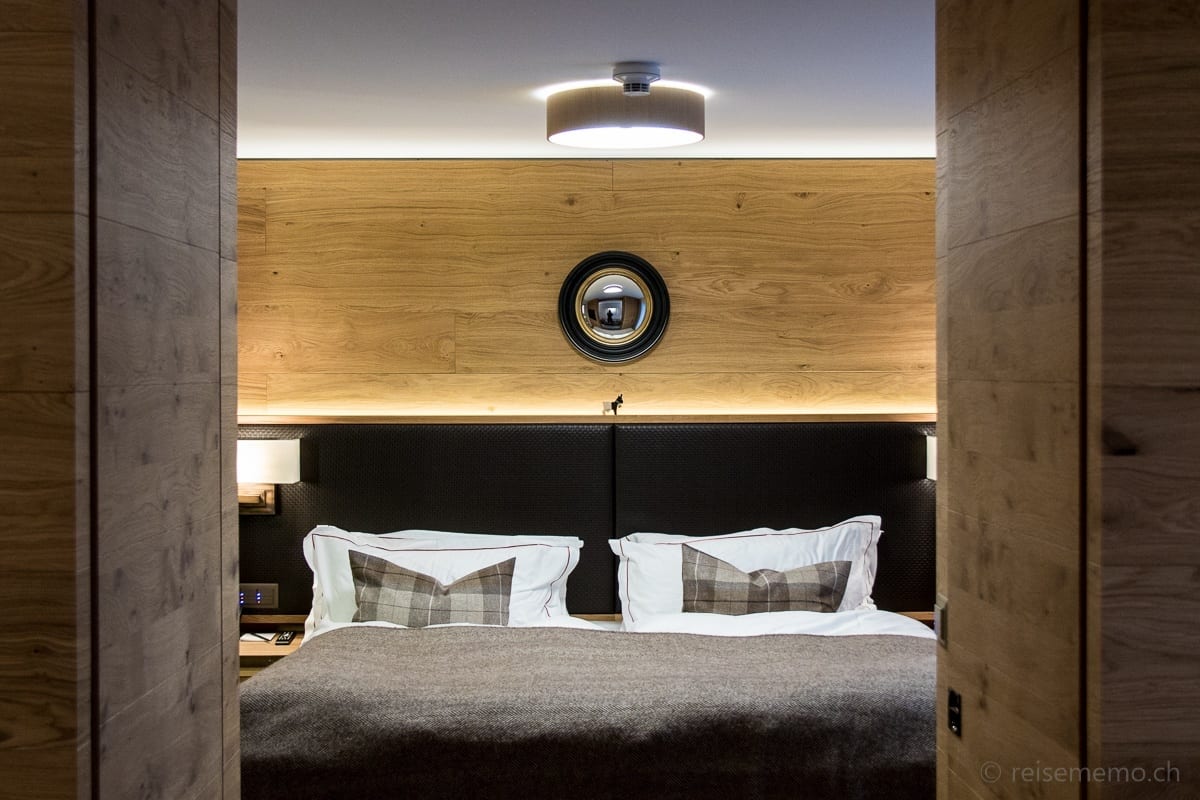 Incidentally, the view of the heavenly Saas-Fee mountain backdrop from the balcony is truly splendid. The hotel interior is done in Alpine Chic with a slight British accent. At least the plaids admit to a relationship with the British background of the investors.
La Locanda Restaurant
The food at the Capra exceeds all expectations! The credit goes to Starred Chef Oliver Glowig whose restaurant of the same name in Rome has been awarded two Michelin stars. For "La Locanda" in Capra, Oliver Glowig imported no less than his entire team from Rome. And should he himself be away, Sous Chef Daniele Corona makes sure that his modern Italian cuisine is served with an unmistakable Swiss touch.
The service, too, left nothing to be desired: the attentive, friendly waiters look after their guests in several languages. And even Assistant Director Claudia Schibler lends a hand when all guests are waiting to be served simultaneously. We totally enjoyed an evening of being wined and dined. La Locanda is made to order for gourmets who like dining in an intimate, personalized atmosphere.
The Menu
We were greeted with an amuse-bouche starter before getting down to the serious business at hand:
Walter could not resist the sweet temptation and ordered a pomegranate mousse (just because pomegranates are so healthful, of course…)
But I didn't do badly either! My espresso was served with a fine Zeppole. These are small, warm (!) Berlin "doughnuts" — albeit without filling. We really intended to each try only one. But the little things were so tasty that we simply HAD TO consume them! I also tried "bacio di dama", simply delicious! Italian hazelnut cookies.
We rounded out this exquisite menu with a nightcap from the well-stocked hotel bar. Walter found the Tequila Añejo worth a try and I sipped a Grappa di Brunello. Our drinks tasted all the better next to the fireplace. The occasional pleasant sound of goat bells only added to the sense of peace and well-being…
As it turned out, life at The Capra is anything but uptight! What it does offer is attentive and warm hospitality in elegant surrounding with an outstanding gourmet cuisine.
And it continues on "the morning after," energized and in fine animal spirits after such a breakfast, ready to tackle the new day!
Oh, yes, a small spa is also part of the offering. It gets a bit tight fairly quickly when all the bushed skiers or hikers come in to relax at the same time. But this our English friends already know and have fitting expansion plans under way: right next to The Capra a new chalet is rising with another ten suites and a larger wellness area. Something to look forward to!
Middle Allalin – The mountain in Saas-Fee's backyard
All around Saas-Fee many winter hiking trails invite to relaxed or athletic walks through a mountain winter wonderland. You can find details to the varied possibilities here.
When you are in Saas-Fee, under no circumstances miss the highest subway in the world – the Metro Alpin! It will take you comfortably to the top of Mittelallalin (3500 MASL). Over food and drink, you can enjoy the marvelous view from the "Threes!xty, the highest revolving restaurant in the world. It turns a leisurely 360 degrees in an hour.
Oh, not to forget… although that little goat was almost everywhere else we went, it didn't make it to this altitude and into any of our pictures here!  ;-)
Our thanks go to…
Many thanks to Raphael Herzog, Director of the The Capra Hotel and Assistant Director Claudia Schibler. We really enjoyed our weekend at your establishment!
A nice thank you also to Julia Faulhaber of Faulhaber Marketing for the tip and organizing our stay.
Stylish alpine elegance at its best
Very elegant alpine hideaway!
User Ratings (

5

Votes)

9.2