Yep, you read that right! Every Thursday, the Cuddle Hotel Gams celebrates an evening right out of "A Thousand and One Nights" in Austria's Bregenz Forest of all places, wafting its guests away on a genuine flying carpet into an Arabian Nights fairy tale!
To be sure, usually when we think "Arabian Nights," we picture ourselves sitting in a plane heading toward the magical East — on an imagined flying carpet of sorts. But, in this case, we're flying along in our car in direction Bregenz Forest headed for the town of Bezau to be exact. This is where the Cuddle Hotel Gams beckons with its special adventure night.
Every Thursday, in fact, the hotel is completely transformed into an enchanted grotto that might come straight out of the Arabian Nights. Uncounted numbers of little lamps, candles amidst Eastern scents, nuts and fruits, two Arabian camels, colorful pillows and baldachins serve to create a puissant mood …
For the blink of an eye, we forget that we are in Austria… until the friendly desk clerk prompts us in her pleasant Bregenz Forest accent to step onto the flying carpet that will indeed waft us to our Cuddle Suite. An oversized fan provides the necessary airflow…
So, now the trip starts in proper style after all!
A Cuddle Suite straight out of Arabian Nights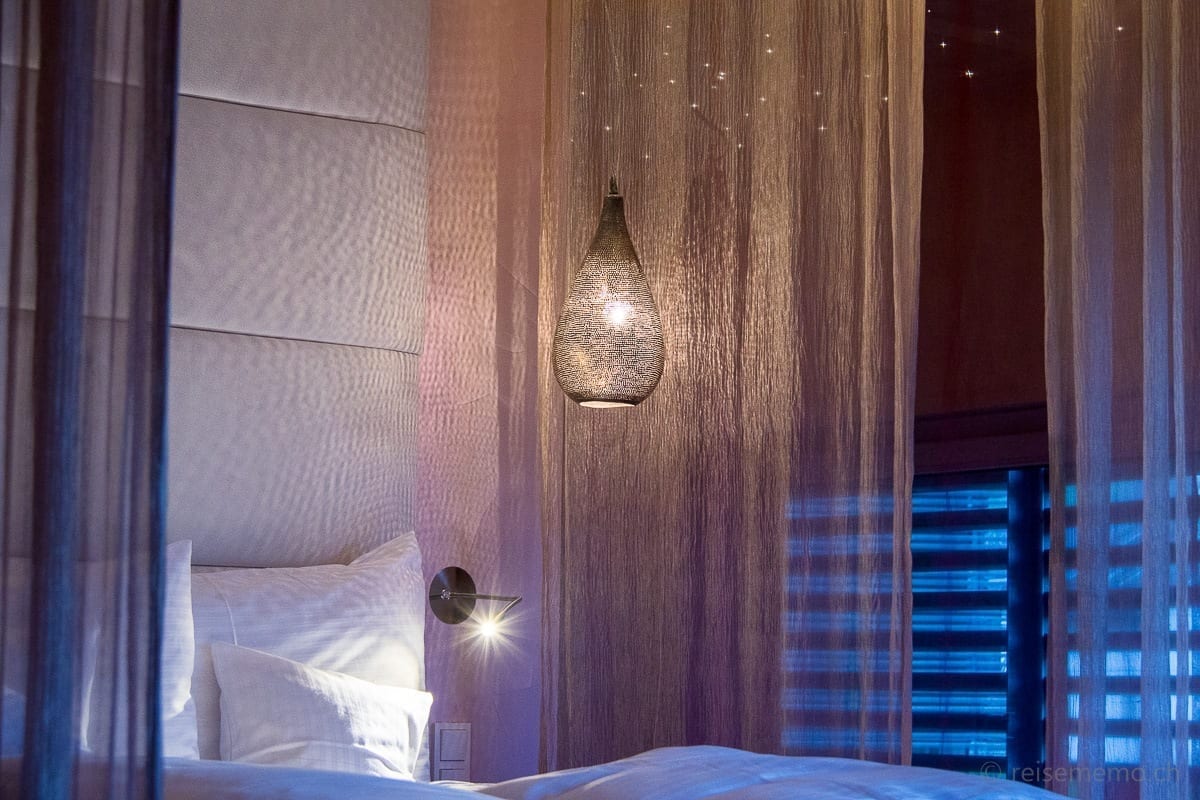 We land in our equally Eastern-themed Cuddle Suite to find our bathrobes and slippers already laid out for us. For this special night, the entire hotel premises (including the bar, lounge, lobby, and wellness oasis) become bathrobe territory. Pillows and blankets are scattered about for getting comfortable anywhere. No doubt about it!
Curiosity piqued, we explore the various spaces: in the Pur Pur Bar and then in the spa lobby, aphrodisiac delicacies waft past temptingly before we move on to sate ourselves on the culinary flights of fancy spread out on an Eastern-style buffet.
In the Da Vinci Spa
For this evening until midnight, the Da Vinci Spa offers refreshing infusions and Eastern cleansing rituals. What's more, we treat ourselves to the "Thousand and One Night" Ceremony — a relaxation treatment that precedes the sisha and sweetened mint tea with which we close out our wellness evening in the spa.
You can read how we experienced the hotel on "normal" days in this comprehensive separate report.