Not long ago we were abducted into "A Thousand and One Nights" by Austria's Cuddle Hotel Gams as it does for its guests every Thursday. But, it is also possible on any other day to be seduced into a time for two in this special ambiance…
Love has the starring role here, with the Kuschel Hotel Gams in the town of Bezau, located in Austria's Bregenz Forest, providing the suitably romantic setting.
Picture the 4-star Superior Hotel as divided into different buildings: there is the main "Gams" house dating from the 17th century where you find yourself in the public areas like lobby, bar lounge and restaurant. From there you retire to romance in the "Flower Palace" or the "Cocoon" with their so-called cuddle suites.
This is more or less how it goes then:
From the cuddle suites in the Flower Palace
A canopy bed, a whirlpool under a starry sky and many Oriental details guarantee unforgettable hours for two. Because this is exactly what the hotelier couple Ellen Nenning and Andreas Mennel specialize in: for more than 20 years, they have spoiled guest couples who want to give each other the gift of time, time for two as it were… be they newly in love, fallen in love again or still in love. Or it could be a mother and daughter or two women who are best friends for that matter.
This time around, we did not catch sight of any father and son duos. But guys absolutely should not let themselves be put off by the "enchanting" (or for them possibly "disenchanting") term cuddle hotel. There is only one way to go: Close your eyes and charge ahead! Even Walter finally came around… for the second time in ten years, no less!
The hotel is said to be especially popular with young parents traveling without the next generation in tow during the Thousand and One Nights events happening every Thursday. Just a few hours driving time from home, they can savor an Orient experience of the choicest kind. If need be, they can make it back home in time, just in case the kids did not hit it off as hoped with the babysitter.
As for the colors in the cuddle suites, you are met there by the four "house colors" of gold, blue, green, and even purple…
Cuddle hotel style relaxing in the Da Vinci Spa
The "Da Vinci Spa" wellness oasis spreads over 2,000 m2. The cuddle and gourmet philosophy continues here. This dream world consists of a wellness lounge, various lounging rooms, a Kneipp Walk barefoot walkway, diverse saunas, a heated outside pool, a whirlpool with a view of nature and a heart-shaped pond in the romance garden. And, of course, various treatment rooms are available for individual applications.
In contrast to the turquoise-blue Thousand and One Nights the previous evening, today in the spa lobby warm earth tones predominate. Inspired, we go for a chocolate-coconut treatment. ..it's done by applying the warm packs on each other's skins in a private steam bath. The pack really consists of coconut and chocolate! But not for eating (it really has a brutally seductive taste), for afterwards come cups of hot chocolate with whipped cream before we round out the treatment in the cuddle suite's own whirlpool. Accompanied by assorted chocolate sticks and a chocolate cake!
Restaurant Goldstück and the Pur Pur Bar
After the indeed rather sweet choco binge, we are looking forward to something salty, more specifically to dinner. Not before indulging in a prior apéro in the atmospheric Pur Pur, it goes without saying.
The restaurant with view into the open show kitchen is stylishly appointed. With swanky fauteuils upholstered in purple and blue it almost seemed we were invited to sup at a king's table. Anyway, that is what we felt like ;-)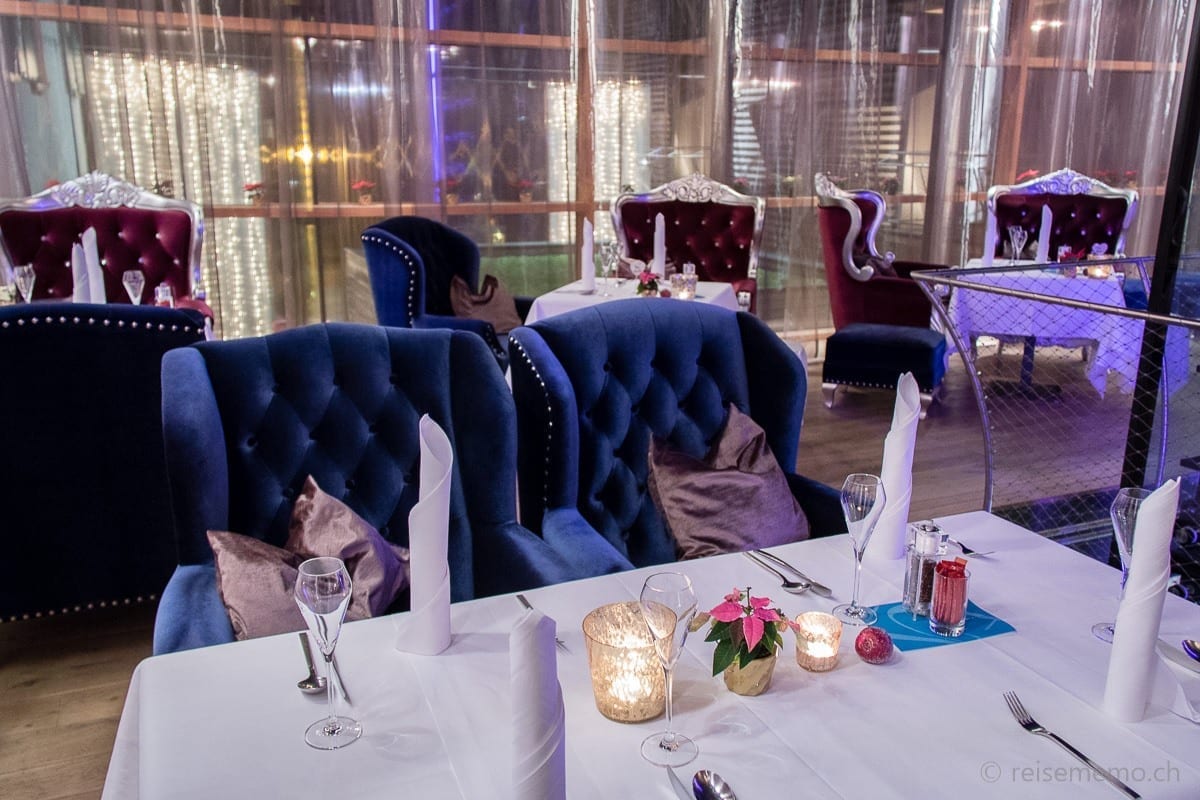 David, the friendly, jocular waiter led us through the selection of appetizers, main courses and desserts found on the day's menu. We decided on the following:
By the way — the literally towering cheese selection is outstanding! Absolutely leave a little room for it before the dessert. Or grab some the next morning!
The cuddle hotel really does offer the perfect place to stay for an enjoyable time that lives up to its motto — a time for two, that is. If you are interested in the somewhat choicer wellness experience, you will not regret booking the Thousand and One Nights event on which the curtain rises every Thursday.
Our thanks this time go to…
… the bustling hotel directress Ellen Nenning and her team! Thanks for the invitation and the interesting disquisition on hotel operations.
And finally, a sincere thanks to Christiane Hannsmann of the PR agency MAROundPartner for facilitating our stay!
Cuddle hotel in Austria's Bregenz Forest
Absolutely worth the experience. Check out this oasis of wellbeing and romance for two!
One-of-a-kind travel experience

10

User Ratings (

0

Votes)

0