In Dresden, I encountered a proud, historic city with folksy inhabitants and imposing baroque architecture decked out for Christmas. 800 years old, rebuilt and vibrant today, this compact city is also known as the "Florence on the Elbe."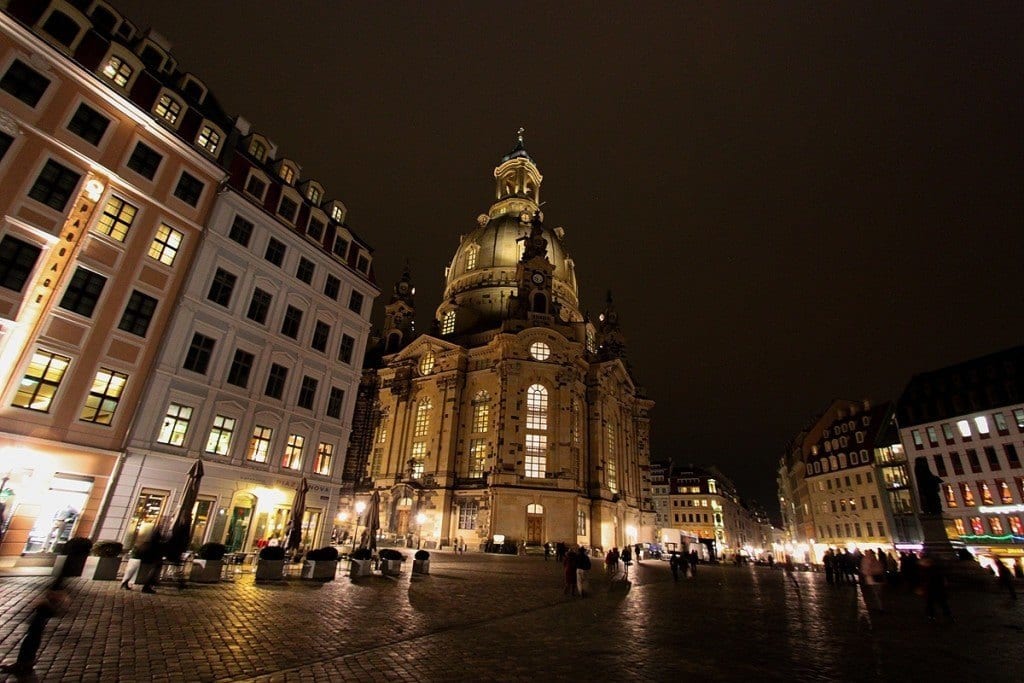 Dresden not only stands for renowned baroque architecture and a vibrant theater, music, and opera culture but also for the untiring, decade-long and now completed reconstruction of the Altstadt ("Old Town" – the city's heart) after its total destruction in the closing days of World War II. The rebuilt 18th century Frauenkirche is the Altstad's world-famous centerpiece. The large cobblestone market square the treasured church fronts on, the Neumarkt, is lined with colorfully restored apartment houses, shops, and hotels that give the square a storybook character. Nearby major buildings like the Rezidenzschloss, the palace of Saxony's rulers, the Hofkirche Catholic cathedral, and another baroque (or is that rococo?) masterpiece, the Zwinger palace, today home to a museum complex, the cobblestone streets and stone arch Elbe river bridges  that connect the Altstadt with Dresden's Neustadt (New Town) made this visitor think not so much of Florence as another historic treasure of a city, Prague (it's also on my bucket list to visit.)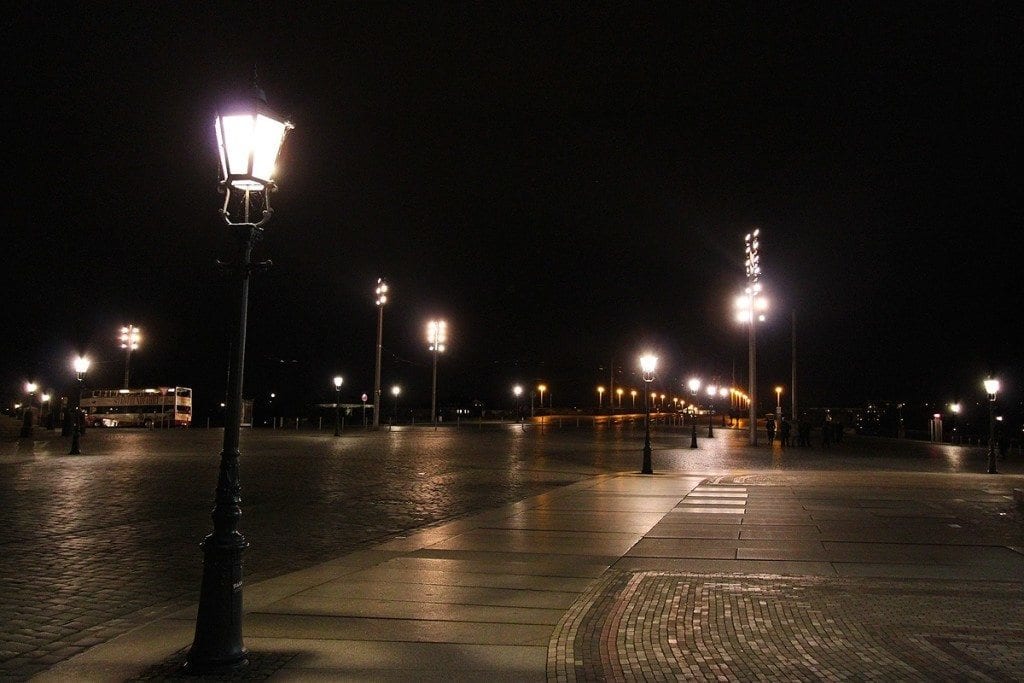 In other words, Dresden, ancient city of Saxon kings and prince-electors, simply oozes charm. And so do its people: Dresdners are witty, good at repartee, articulate, fun-loving and very hospitable. I enjoyed myself immensely in their company and had many a good laugh over their clever puns and wordplay (especially when spoken in unique Saxon accented German!). True, Dresden at the moment is getting some negative press because of the anti-immigrant demonstrations Mondays on the historic Theaterplatz. I just simply made a point of keeping away from the inner city during my stay; the rest of the week there was no hint of anti-foreign sentiment anywhere. Also, the eloquent, bold slogans calling on people's better natures that I saw fastened on many of the most historic buildings made a deeply positive impression.
Getting back to things to see and do: In the Residenzschloss you will find part of Saxony's art collection, the staatliche Kunstsammlung. It also houses a veritable treasure chamber called the Grünes Gewölbe that is filled with mind-blowing, precious objects exquisitely-wrought of gold and silver, studded with diamonds and precious stones. After so much sensory overload, I passed up the museums in the Zwinger, being content to feast my eyes on its glorious grounds and exterior.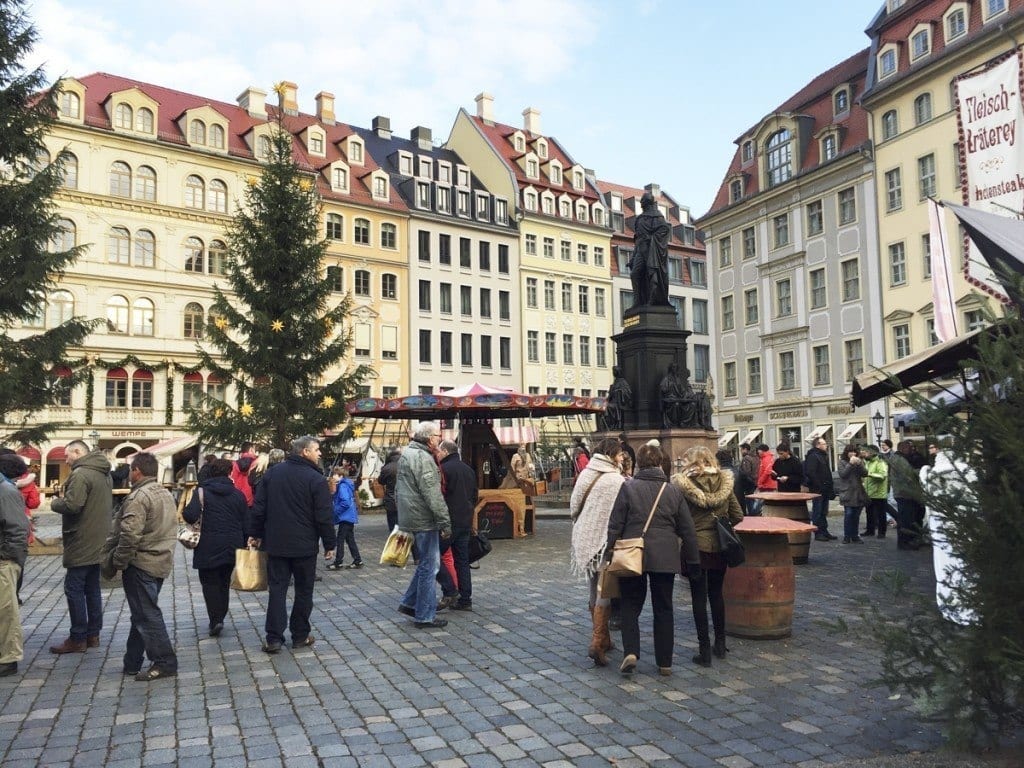 I admit I was pleasantly surprised by Dresden, thanks to its warm people, many fascinating nooks and crannies, good food and authentic pre-Christmas traditions, including the bustling Striezelmarkt, Dresden's famous Christmas market and Germany's oldest (in its 581st year!) that is currently lighting up the city center  and spreading its unique brand of good cheer through December 24th. If you can, join the lively holiday goings-on and don't forget to try the Christstollen, a rich Christmas cake unique to the region (it's genuine only if bears the official seal!)
Click here for my report on Dresden's Striezelmarkt
Neustadt
Neustadt ("New Town") just on the other side of the Elbe river offers a modern counterpoint to the city's baroque Altstadt heart.

Urbane, sassy Neustadt feels like Kreuzberg, Berlin's equally happening district. Here, too, the walls of the row houses lining narrow streets are full of slick graffiti art, and uncounted bars, clubs, restaurants and a potpourri of cultures beckon. Life is popping everywhere you look. It almost compels the visitor to blend in, to saunter down these streets, do some shopping here and there, and stroll through the must-see Kunsthof Passages. Or visit the famous Pfunds Molkerei (dairy shop) lined entirely with hand-painted tiles (photography is forbidden!) even if it is occasionally thronged with shoppers and gawkers stepping off the tourist buses at the curb. Right next door is the Senfladen whose immense selection of mustards, dips and spice mixtures nearly overwhelmed me. One door down you will find the Ostmarkt where they will sell you regional eastern German specialties and nostalgia items from the "good old" DDR days, when this was still East Germany.
A funny thing happened to me in Neustadt: In one of the stores, the sales girl asked me "are you staying in the Swissôtel?" Surprised, I asked her "You mean you can hear it?"  to which she laughingly confessed that she did. Now it was my turn to laugh and wonder if we Swiss overnight anywhere but the Swissôtel.
Click here for my 5 tips on must-do activities while in Dresden.
Restaurant recommendations
Altstadt
Pulverturm by the Frauenkirche and Sophienkeller in the Taschenbergpalais Kempinski Hotel are two of the most beautiful  vaulted cellar restaurants in the Altstadt, both serving hearty fare…
Augustiner by the Frauenkirche – Bavarian  brewery pub with a Bavaria-Saxony menu…
Kurfürstenschänke by the Frauenkirche – a historic tavern serving Bohemia-Saxony specialties…
Kastenmeiers – Gerd Kastenmeier's gourmet cuisine with regional and seasonal delicacies. Surprising fish dishes!
Burgerei – A burger paradise. Out-of-this-world burgers, and not just for meat lovers…
brennNessel – vegetarian restaurant and pub with rustic ambiance and wholesome dishes…
Neustadt
Lila Soße – Nouveau German cuisine, very happening…
Die Pastamanufaktur – terrific homemade pasta dishes, ideal for lunch…
Coffee breaks
Cafe Schinkelwache – classic coffee house in baroque surroundings. Great cake selection and original Dresden Christstollen® with the seal of authenticity…
Bakery and Coffee Wippler – a classic, within sight of the Blue Wonder antique bridge…
Hofcafé in the Kunsthof Passages – A cute little  café. The cakes are to die for…
Miss Fein – for a real American cupcake or another sweet thing…
Kleinert's Specialties – gourmet foods shop with integrated café and chocolaterie…
Café Kreutzkamm – in the Altmarkt Gallery, with a copious cake selection…
Wohnzimmer – Club, bar and café…
Practical infos
SWISS offers an ideal flight schedule. You arrive in the morning and get home in the evening. Dresden is a mere 1 hour and 20 minutes flight time away. By train from Zurich, it will take a good eight hours.
From the Dresden airport to downtown you can take public transit via a rapid bus/tram connection operated by DVB – Dresdner Verkehrsbetriebe AG . Take the number 77 Bus in direction Klotzsche Infineon to Infineon Nord and there transfer to Tram 8 in direction Südvorstadt and get off at Pirnaischer Platz. Avoid the transfer by taking the S-Bahn train to the stops at either Bahnhof Mitte or Hauptbahnhof.
Tickets for train, tram, and bus can be purchased at the airport from machines (they accept coins, bills, and credit cards). A day pass will cost you € 6.– and is valid from time of purchase until 4 p.m. the next day.
Available in several versions, the  Dresden CityCard, besides offering free train, bus, and ferry rides, will admit you free to select museums and discount tickets to many recreation facilities, cultural events, gastronomy, and excursions. You can order it online before you leave home — which makes sense, because then you can ride hassle-free right on arrival. Or buy it on-site at Dresden Information at the Frauenkirche.The Dresden CityCard is a good deal if you make use of the additional discounts, otherwise a current day pass will likely be all you need.
Incidentally, Dresden is just 2 hours by car from Prague. The train will also get you there in 2 1/2 hours. So, if planning a longer stay in Dresden, by all means, visit Prague. You can also reach the Czech capital by biking alongside the Elbe. A few tour operators offer bike tours from Dresden to Prague. Count on taking a few days if you decide to go this route, however…
My thanks go to…
Many thanks for the invitation and arrangements to Oliver Sefrin, head of press and public relations for Germany Travel and Markus Veit, associate for national and international markets, as well as Christoph Münch, manager for international marketing, press and public relations with Dresden Marketing.