On our day excursion to the Sarntal Valley, these "blue apron" artisans welcomed us in their workshops and let us look over their shoulders. 
Wearing their emblematic blue aprons, third-generation quill embroiderers Ulrich Thaler and his brother George, helped by three employees, decorate leather with peacock feather quills split into thin strips. To name just one prominent product, they make the handsome costume belts that are an important part of the traditional Sarntal garb. In July, when peacocks shed their feather dress, farmers in the vicinity supply the brothers with the raw material needed for their enterprise.
Skill and deft fingers plus a generous portion of patience are required for this craft. A single piece of embroidery can take as much as three months to complete. The leather is embroidered in artistic motifs with the fine peacock quill strips. When I ask how they manage to split the quills into these slender strips, I learn that…it is a closely guarded company secret.
Ulrich Thaler also smiles when I ask what he feels when he handles an antique piece entrusted to them for renovation: pride and respect, he says. Each is one of a kind, hence impossible to duplicate ever again.
He tells me about a request for a quote from a German luxury fashion brand for embroidered leather jackets. They could not come to an arrangement because of the size of the order: 10,000 pieces. It was simply too much for them… For me, it was reassuring to know that here they still measure success by quality and not quantity.
Thaler Quill Embroidery | Rohrerstrasse 41 | I-39058 Sarnthein | www.federkielstickerei.com
Next, the wood shavings flew expertly in the workshop of the Fritz Wood Turnery.
The scent of Swiss pine, known and beloved by us Swiss as Arve, always gives me a homey feeling. Let me just get a whiff of wood, sap, and varnish, and right away I feel that I'm in good hands, as I was with my father in his carpentry workshop. Fritz Unterkalmsteiner here let us immerse ourselves in his world by turning genuine Sarntal pine plates and letting us burn a Sarntal traditional hat into them, more or less adeptly, by using a wood burner tool.
A turned product made of Swiss pine marked with three grooves means that it originated in the Sarntal; two more grooves will tell you "made with pride here in the Fritz Wood Turnery."
Stools used at EXPO 2015 Milano came from the Fritz workshop. The shop clock, which runs backward, loses about two minutes per day. Well, and why not? Nothing wrong with reminding us to look at life from a different angle occasionally…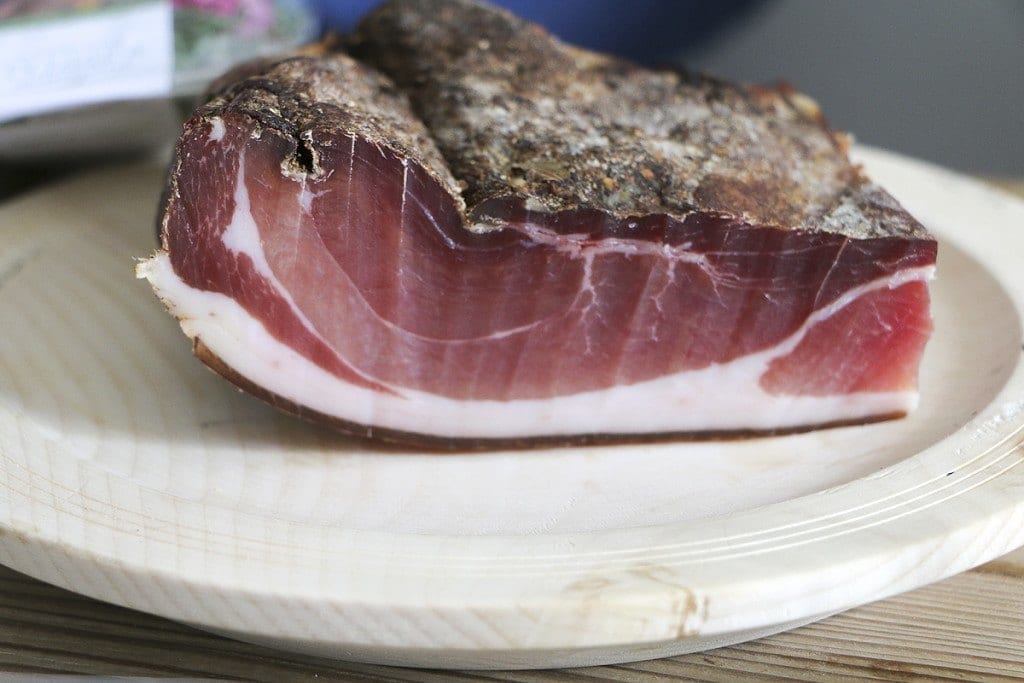 The bacon that I took home is served in entirely authentic fashion on a Sarntal plate in this image.
Fritz Wood Turnery | Steet 37/A | I-39058 Sarnthein | www.drechslerei-fritz.com
Lastly, when we stepped into the Unterweger Handweaving workshop, Albert Unterweger also put on his blue apron before sitting down for us at his old loom and letting the shuttle fly through the warp threads.
I was touched by the old carding machine that he told us his grandmother already had used to card the sheep's wool. And the hand weaving was impressive in all respects; here, too, a premium is put on manual processes.  All the sheep's wool that they bring in is sorted and washed by hand. Each and every fleece is checked. If the wool sample does not make the proper whirring sound when gently strummed next to the ear, it means the sheep was sick and the wool is discarded. All weaving, it goes without saying, is done in house.
And so we saw how woven and knitted products of the highest quality are created here the old-fashioned Sarntal way.
 Unterweger Handweaving| Steet 26/A | I-39058 Sarnthein | www.handweberei.it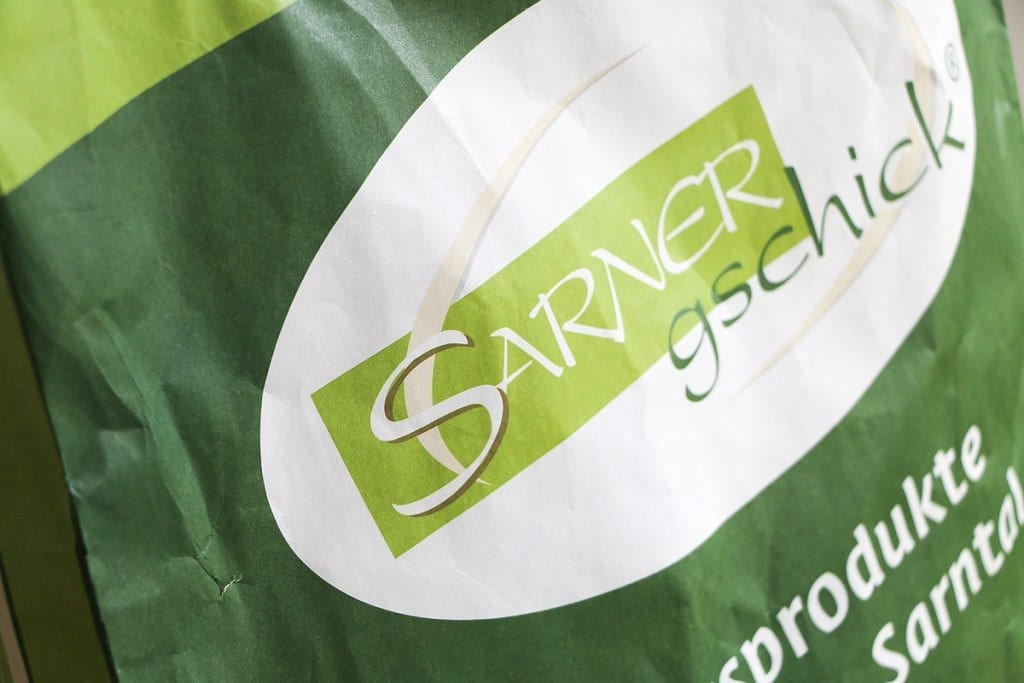 More than a decade ago, our Sarntal Valley artisans and others joined together to spread the word far beyond the valley about the centuries-old craft tradition and time-honored manufacturing techniques still practiced here. They created the Sarner Gschick  (roughly "Sarn style") brand for their wares — what an apt name! You can find out all about it here: www.sarner-gschick.com
This Flickr-Album contains all my South Tyrol images.
I want to thank all our craftsman entrepreneurs for an unforgettable day and for the time you spent showing us your work. Also warm thanks to Booking South Tyrol at  www.bookingsouthtyrol.com for the invitation and, last but not least, to Eva Ploner, Ulrike Platter and Elisa Casagrande with daviso pr agency for the organization and personal support.