In our Swiss latitudes, February would be ideal for a stay in our snowed-in mountains. But for his impending 50th birthday, Walter wanted to be in Venice. February in Venice? Really?
I have to admit it took me a while to cozy up to the idea. He pointed out that Venice in February would be so mystical. I would rather bask in spring sunshine on Piazza San Marco, sipping from my cappuccino instead of braving the canals on a grey, clammy, foggy February day. Still, after all it was his 50th and, Italian though I am, I had never been to Venice. High time then to make good a visit — February or not.
Still not entirely convinced, I nevertheless set about planning our trip. I presented the birthday boy to be with a choice of hotels. He made up his mind quickly. Walter swears by design hotels, and so he picked the Hotel PalazzinaG, the brainchild of star designer Philippe Starck. No doubt, it will all be super chic once again — but maybe not all that practical, as is often the case with design hotels. But, heck, it was after all for his birthday and so he should get to choose! Should there turn out to be grounds for criticism, he can blame himself. Or Philippe Starck. Either way works for me.
While searching the Web for transfer possibilities from the airport I found a water taxi that would take us to the City of Canals. Better yet, for the next day I discovered a private gondola tour complete with surprise effect. Bingo! It was exactly what I needed.
But, then I hesitated for a fraction of a second before booking…would Walter go for it? He's not the super-romantic type after all — to put it mildly. And mostly he is also not a great one for surprises. I booked the gondola tour anyway. After all, I had let him choose our destination and hotel already.
On SWISS to the Floating City
We made our way to Zurich Airport in the early evening through a downpour. It suddenly came to me again why I had questioned the wisdom of heading to Venice in February…
As we walked to our gate, they announced that SWISS flight LX 1664 to Venice was delayed. My first thought: what if they cancel the flight? My gondola tour! Not a chance that Walter will want to take the train. So, please, please, dear SWISS — don't let me down now! As I began to turn over in my mind various options for getting to Venice, we are asked to board a replacement machine. Yes! After an elaborate deicing (in a pouring rain?) the Fokker in the end does lift off into the by-now pitch dark Zurich sky.
On arrival at the Venice airport, waiting for us is our water taxi driver Manuele, who transports us at this late hour under the Rialto Bridge to our hotel none the worse for wear. Phew, all's well that ends well. Now, just take a deep breath and put on a good face no matter what comes your way!
The PalazzinaG design hotel
As we check in, a happy surprise! The lounge bar presents itself in traditional Venetian decor, with mirrors, glass, and mahogany tastefully combined with contemporary design touches.
After our welcoming prosecco, it was off to our room. I couldn't wait to see it! However, here I had also worried for nothing. Our mirrored room decorated entirely in elegant white is tops! The bath is huge as is the rain shower.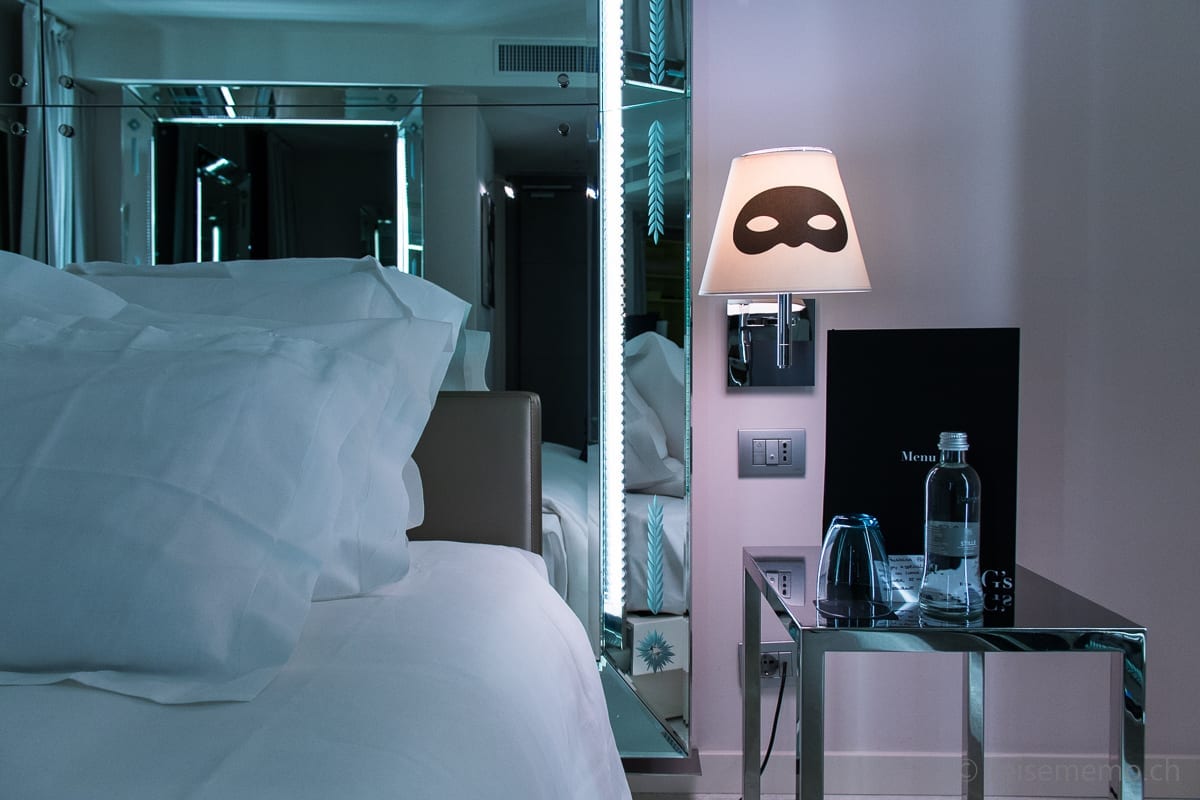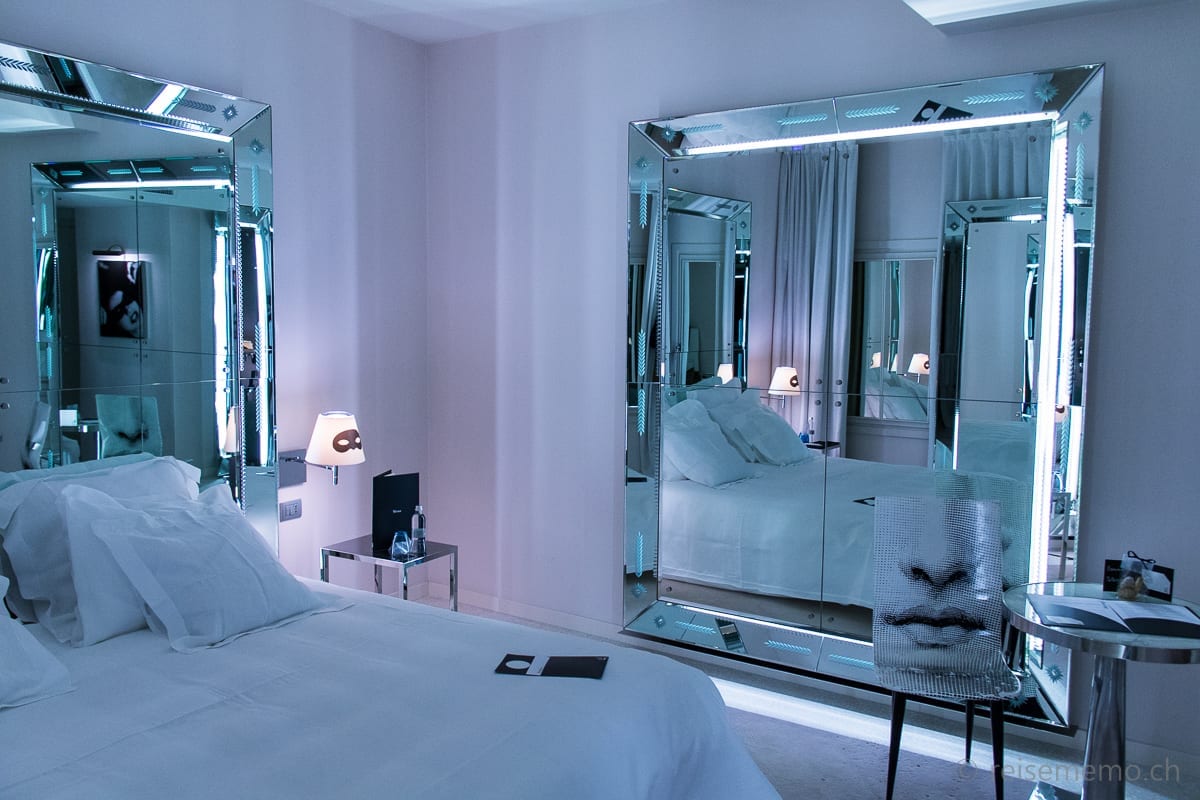 Designers not always seem to remember to provide enough shelf space for toilet kit and make-up case. I really don't think I take up that much room, but my needs are apparently still greater than what star designers are willing to let me have.
My other pet peeve is designer washbasins — these things look hot alright but sometimes barely let you get your hands under the water. Fortunately, the version in the PalazzinaG is particularly accommodating in this regard; the sink actually consists of a barely-rimmed flat surface and the faucet is mounted high enough above it. I was astonished by how the side splashes stay in bounds and the water flows across the washstand without any problem. A really cool effect!
But what really proved to be the pièce de résistance for us was the sound system: Instead of the usual docking station for iPod/iPad or similar gadget for which we never seem to bring the right model with us, here they provide a simple 3.5 millimeter plug on a cable that comes out of the wall. You could probably hook just about any smartphone up to it. Oh, yeah! Or as Barry White used to sing:
Let the music play! I just wanna dance the night away..
And now: a gondola tour of the "other" kind
The agreed-on gondola landing for my surprise tour the next day was located behind the famous Piazza San Marco (St. Mark's Square). I was to check in with Antonella and no one else but Antonella. Otherwise, it would all fall apart! Antonella would be the one with long, dark hair and brown eyes — just like about 95% of Italian women… OK, so be it!
Funny thing is, I recognized Antonella right away as it turned out — because besides her there were mostly gondoliers standing around waiting for their customers.
We were about to board the gondola they pointed us to, but then Walter wasted no time stirring up a bit of excitement among the gondoliers for wanting to fasten his GoPro camera on the gondola's shiny new paint job. After some back and forth among the gondoliers who congregated around us, our gondola man Domenico relented and let him strap the camera to the inside of the gondola. OK, we've handled the first mutiny. I take a deep breath.
No sooner than we reach the first turnoff in the narrow canal, however, I get queasy again when the gondola manages the turn with just centimeters to spare in front and back. When it gets even tighter at the next turn, it dawns on me that gondolier Domenico is in control and knows what he's doing…
I'm pleased, because a big part of the surprise depends on this being a smooth gondola ride start to finish. Antonella, meanwhile, is following us discreetly via the narrow side streets, photographing our tour at every turn.
Domenico serenely transports us under the Rialto Bridge and past Marco Polo's palazzo. In response to Walter's tired gag line: "Marco who?" our gondolier answers with supreme stoicism: "Marco Polo! in Italian it's "Pollo" (i.e., "chicken"). We double over. I like people who can handle Walter's humor with a joke of their own :-).
So, as I slowly relax, it is almost time: as our gondolier rows us expertly around one more corner —  there it is, hanging from the first bridge over the small side canal we're now on, for our birthday boy to fasten his eyes on: a personalized birthday message for him. Antonella had hung a banner on the bridge railing on which is written "Happy 50th birthday, dear Walter!"
For a minute there, as he peers around from behind his giant reflex camera, it seems as if Walter can't quite believe what he is seeing: "What? What is that?" he keeps saying. Then it dawns on him, and he breaks out in a great big grin.
Yoohoo, the surprise succeeded! The birthday boy is delighted!
Antonella, by the way, had also offered to scatter rose petals from the bridge onto the gondola. However, I had thanked her but prudently declined the offer; after all, no need to overdo the romance bit-… ;-)
As for visiting Venice in February…
So, now that we're safely back home, I can wholeheartedly recommend a short trip to Venice in February! We actually enjoyed fabulous weather.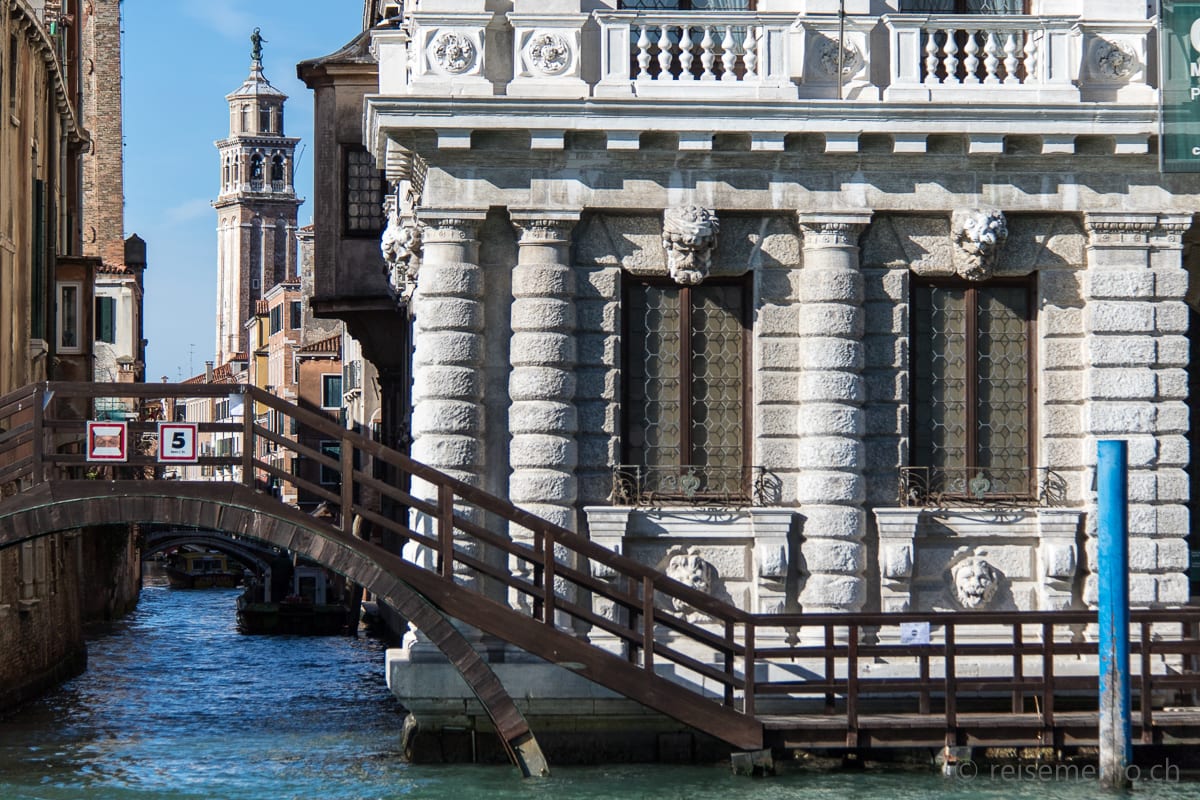 And, in truth, there is something mystical about the city, particularly as dusk descends on it. And also on the plus side, there were (supposedly) just a handful of tourists in the city. I don't even want to think about what it's like in those narrow streets and little canals in the spring/summer high season.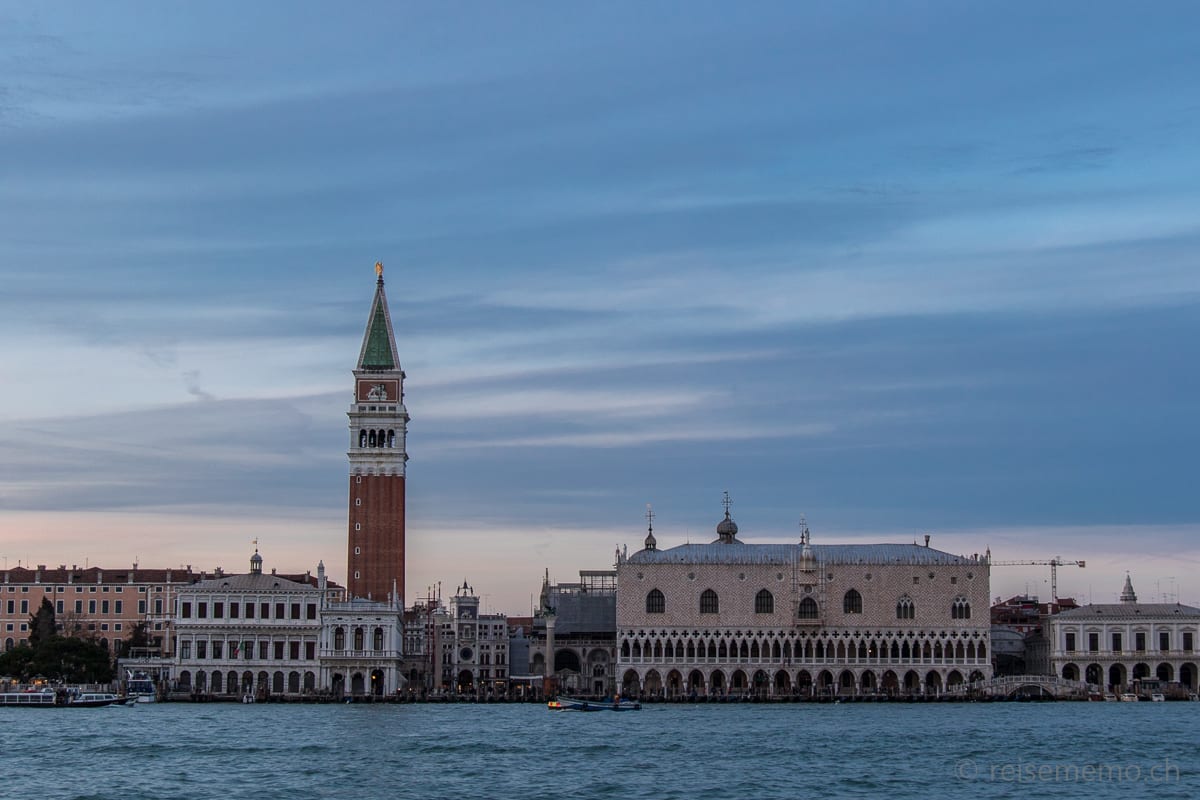 Finally, here are five tips for things you want to do while in Venice:
Ride a gondola down the Canale Grande — with or without surprise effect — it's a must!
Visit the Basilica San Marco and the Piazza San Marco
Cross the Rialto Bridge at least once
Stop in a bacaro, a Venetian stand-up bar, where you can enjoy the tasty morsels called cicheti  :-)
Visit the Peggy Guggenheim Museum (the collection of 20th century masters is mind-blowing)
And here is another slew of images in our Flickr gallery:
[slickr-flickr search=sets set="72157663464582993″ type="gallery"]