It only takes about a half hour's drive from the Vilnius city center to reach Trakai and its fairytale water castle.
The nature idyll starts shortly after merging onto the autobahn. The land is flat, the sky big, the forests reach as far as the eye can see. The clocks here still tick a little slower.
Happy are those who own a weekend getaway here. Birch and pine forests go on forever, from time to time they open up on a lake and right in the midst of one called Lake Galvé there is the restored, imposing water castle. The pretty vacation homes around the lake shore serve as a picture-book backdrop for it. It's a peaceful scene, but I can imagine that in the summer time it gets very busy here, with streams of tourists descending on this now-quiet spot. I'm glad I could experience this way.
Trakai Tourist Information Centre www.trakai-visit.lt
More pictures of Trakai, its water castle and Lake Galvé can be found in this Flickr-Album.  The castle is also a museum and is open to the public.
TonyResort
On stepping out of the car after another fifteen minutes' drive, I experience an intense moment of deceleration. I had some of the same feeling of instantaneous throttling down on stepping out of the float plane in the Maldives more than 10 years earlier.  Here, now, I am surrounded by forest — no bears lurking, but they do have wolves — standing and admiring the popular, modern-rustic TonyResort whose architecture blends perfectly with the surrounding nature park.
This place is blessed with quiet, fresh air, and calming greenery. I like it here. I'm bemused by the notion that I can simply let all that I experienced in two eventful days in Vilnius drop away here by the lake before flying home. Judging by the resort's website, during high season it is no doubt a different story. But even then there has to be a quiet spot somewhere on the TonyResort's 100 acres of grounds.
Tony Resort Anupriškiu kaimas 2, Anupriškės, Trakai www.tonyresort.lt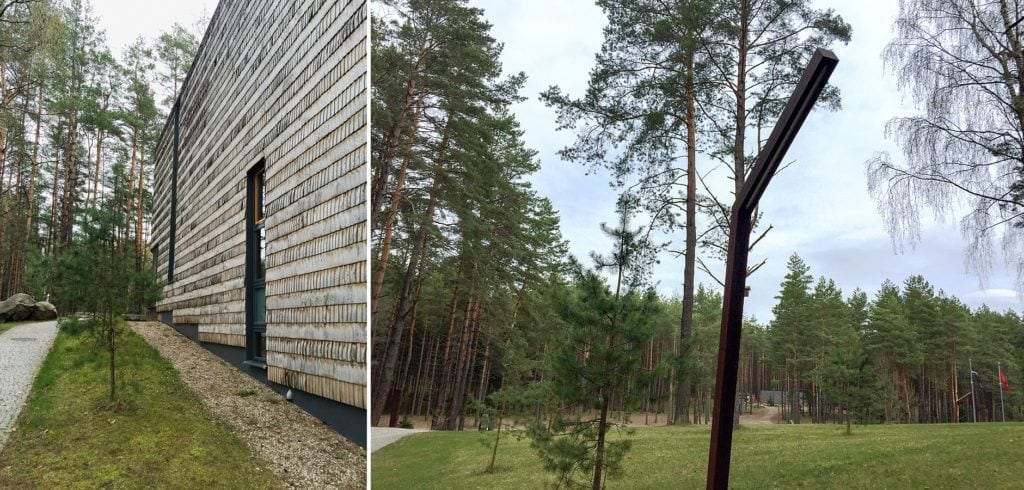 Check out more pictures of the TonyResort in Trakai in this Flickr-Album.
Getting to Vilnius and Trakai
Since June 2016, the newest Swiss airline Germania Flug AG operates two direct flights daily on Mondays and Thursdays from Zurich to  Vilnius. Trakai and the TonyResort can be reached by rental car in a half hour's drive. A taxi presumably would not cost an arm and a leg. There are also guided day trips to Trakai and bus connections from Vilnius.
Check out all my Vilnius and Trakai photos in this Flickr-Album.
My thanks for the invitation to this memorable flying visit go to Germania Marketing & PR Manager Severine Isaac, Chairman of the Board Urs A. Pelizzoni and CEO Tobias Somandin of Germania Flug AG and, last but not least, to Simon Benz with PrimCom.