It's no secret that foodies go for Ibiza cuisine. We asked around to get a line on some restaurants that were not just palate-pleasers but also had good vibes. Here we share six eateries culled from those recommended to us that we checked out for ourselves:
The Giri Café in San Joan
Positively our favorite! From the outside, it looks like a dark little robber's den. That said, hidden inside the entrance is a really tastefully appointed restaurant with a felicitous mix of materials and furniture and a big garden with outdoor sofas.
The menu lists Mediterranean dishes, spiffed up in novel fashion with exotic ingredients and spices. And their freshly-pressed juices are super tasty!
Not only is the atmosphere inviting and friendly, but so is the service. There seemed to be a smile on everyone's lips as they greeted us with a personable "welcome"!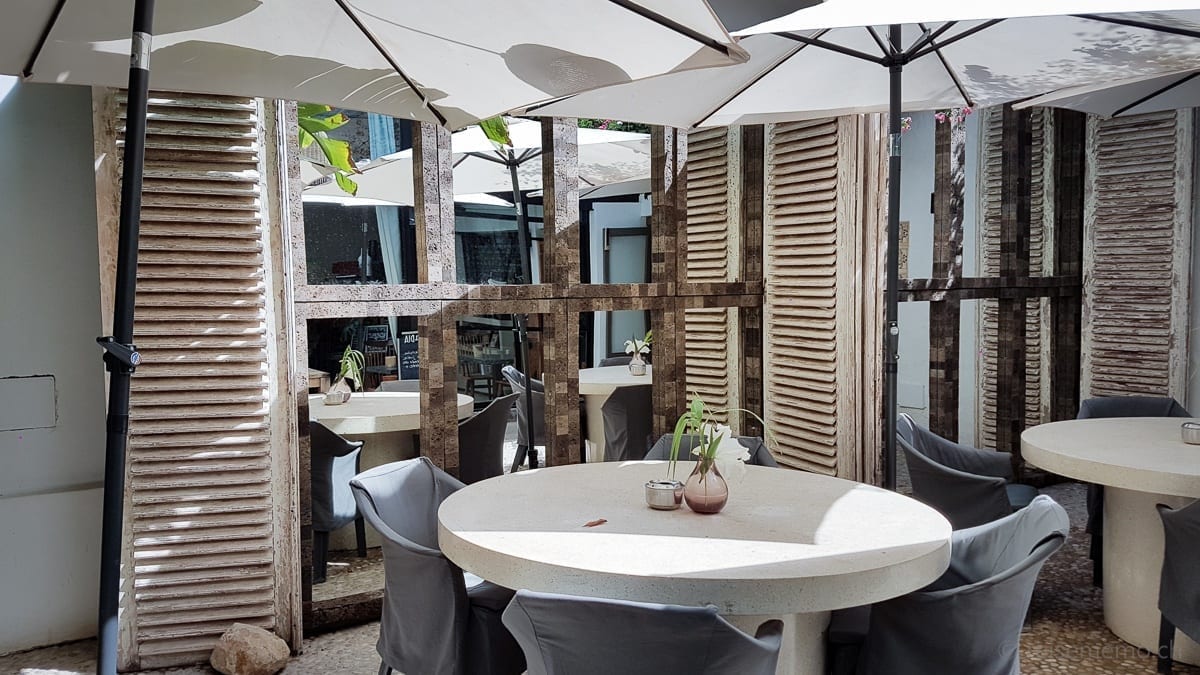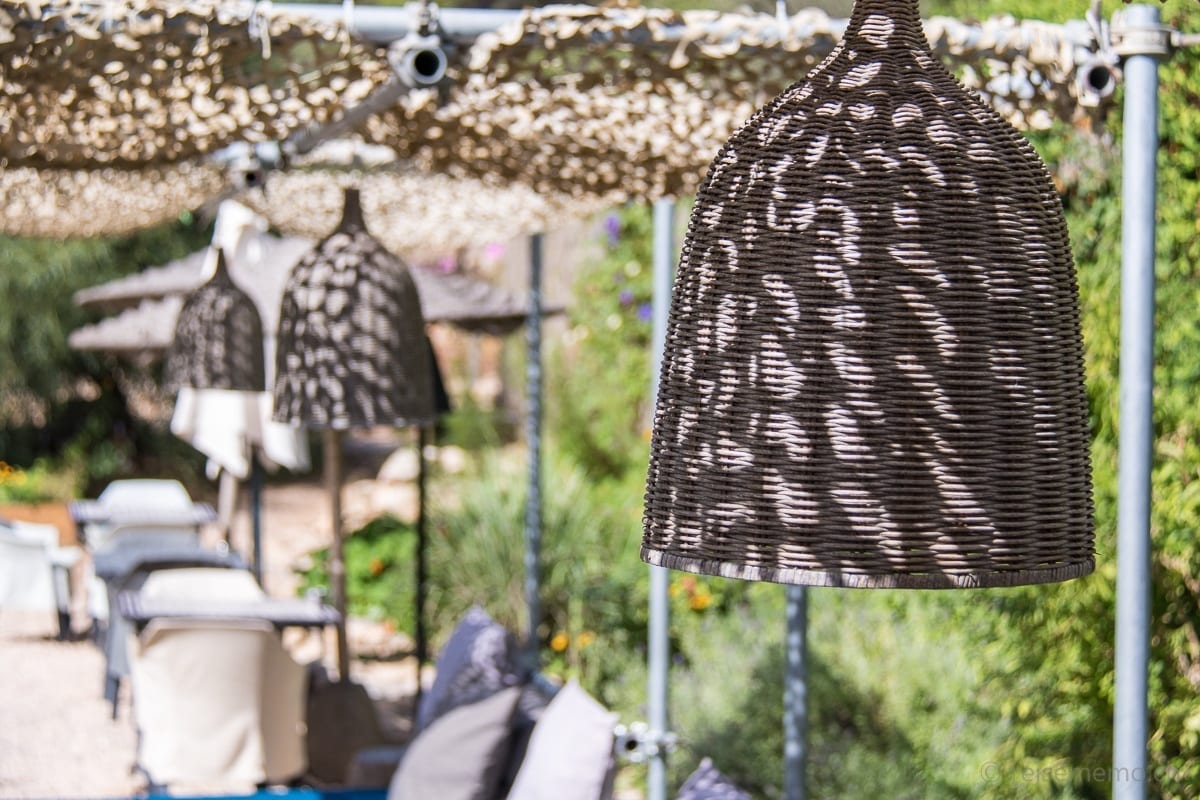 The Giri Café | Plaza España, 5 | 07810 Sant Joan de Labritja |
Asian Bambuddha near Santa Eularia
Bambuddha Restaurant resembles a village somewhere in Buddhist Asia. The interior spaces are lit up with a splendid glow, there are Buddha statues and Tantric influences everywhere…The opulent decor with erotic overtones is almost overwhelming. The dishes are supposed to have aphrodisiac effects and in the restaurant's shop, wouldn't you know, they peddle adult toys – in exclusive designs, no less.
The story goes that owner John Moon let himself be inspired by Asiatic influences and seductiveness when setting up the restaurant. He did a fine job of it, no question!
The kitchen, too, makes an impression. You have your choice of an exquisite assortment of sushi, sashimi, and a cuisine that fuses the best of Mediterranean and Asian cooking. Whatever you do, don't miss out on the desserts!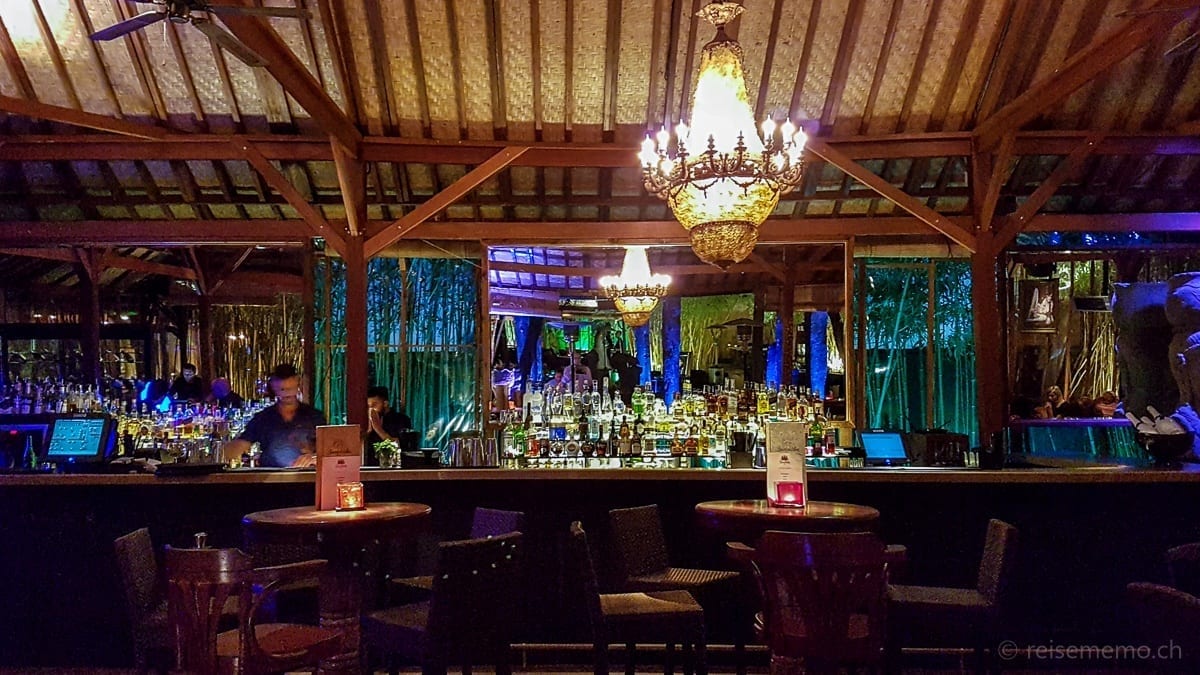 Bambuddha | Carretera de San Juan, km 8.5 | 07840 Santa Eularia del Río |
Aubergine in Sant Miguel
As the name suggests, Aubergine Restaurant caters to vegetable lovers and vegetarians. But not exclusively! The motto may be "farm to table" but on the menu Mediterranean dishes with fish, fowl, and meat coexist with dishes built on ingredients from the restaurant garden.
The location is quite special: A finca with a large inner courtyard and the vegetable garden provides the backdrop for these culinary mini-fireworks. The restaurant's interior is done in all white and mint colors and so is the small store where you can pick up some products to take home.
Incidentally, don't hold your breath waiting for a smile from the staff, – but they sure do know how to cook.
Aubergine Restaurant | Carretera de San Miguel | 07815 Sant Miguel de Balansat |
La Escollera
Across from the Beach Club El Chiringuito (where we had planned to go originally but found the hubbub to be a bit over the top once we got closer), we discovered in La Escollera a fabulous beach restaurant. The mood is casual, the Ibiza sound carpet relaxing, and the waiter sassy-cheery with a line of non-stop patter. Our usual cortado hit the spot so well in the light sea breeze that I even allowed myself another cava. Well, if others won't, I'll just have to treat myself…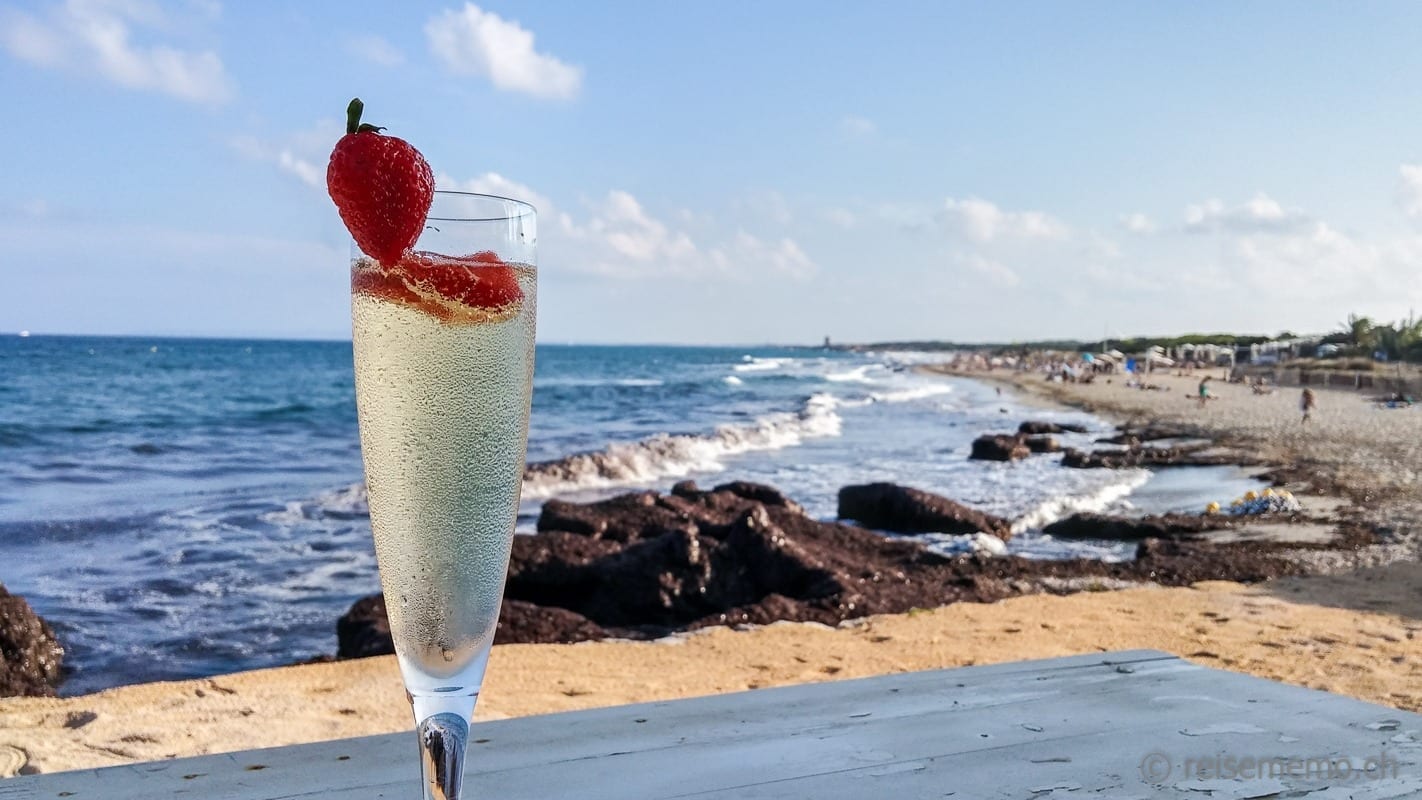 La Escollera | Playa Es Cavallet | 07817 Sant Jordi de ses Salines |
Skuma in Santa Eularia
On the promenade by the yacht harbor in Santa Eularia del Rio, you can choose from any number of inviting looking seafood restaurants. Skuma comes across as rather unprepossessing, but it has what it takes where it counts: not only does it sit at the very front of the harbor where you can appraise all the sleek yachts, but they serve outstanding seafood here. The seabass (lubina in Spanish) was the best ever – sheer poetry!
Skuma | Lugar Port Esportiu | 07840 Santa Eularia del Ríu |
Le Momento in Santa Gertrudis
In Le Momento they serve Spanish dishes with a soupçon of French elegance – just as the name of the restaurant hints. My lobster fusilli and Walter's risotto were delicious!
Here, too, they create an effect with a dash of erotica on the wall. Do I detect a trend here?
Santa Gertrudis is really an interesting little village with inviting shops (Es Cucons) and an elegant café (Musset).
Le Momento Ibiza | Calle De Venda Santa Maria, 12 | 07814 Santa Gertrudis |
A word to the wise
Ibiza is expensive territory and in some of the recommended restaurants, too, the prices have it in them. But their fine food, combined with a special ambiance and occasionally original decor, really are all worth it. Be sure to make reservations even if you alight on Ibiza during the off-season! Some of the restaurants let you make reservations online.
We also frequently found very good restaurants in the beach clubs. Tune in next time to this channel when we present our Ibiza beach club rankings.
And then there are…
As we all know, it's impossible to be in the right place at the right time all the time; if that were possible, our recommended restaurant list actually would have been a much longer. If you have the time and are hungry, we were told that your palate will thank you for giving these eateries a try:
Bon appétit!