They're here again… those days when people say: grey below, blue above.That was exactly what the weather forecast had in store recently. So, what are we waiting for? Strap on those hiking boots and lets go hike a ridge!
This time we were drawn to Central Switzerland. Specifically, we were eager to hike the ridge from Klingenstock to the Fronalpstock. First stop: Stoos, at 1,300 meters above sea level.
As a child, I made it twice to Stoos for ski camp. I have fond memories of this car-free mountain resort village, and, like a child, I can hardly wait to enjoy once more the glorious view of the lakes and Alps of Central Switzerland.
Our hike starts at the valley station of the Schlattli-Stoos funicular railway. Incidentally, right next to it they're building a new one with a 110% grade that will be right up there with the world's steepest when finished!
Once arrived on the Stoos, we first pass the picturesque chapel on the way to the valley station of the chairlift that will take us up to the Fronalpstock.
Good (and fit) hikers, of course, will tackle the ascent to the Fronalpstock on foot. We, on the other hand, opt to let ourselves be hoisted to the top in relaxed fashion and comfortably in the chair lift. Before we set foot on the ridge path, however, we absorb the glorious panoramic view before us, for in the distance west and north of here line up not just one but three of Central Switzerland's most famous peaks: namely, Pilatus, Rigi and Mythen. And the fog blanket swathing parts of Lake Lucerne adds its own spectacular effect!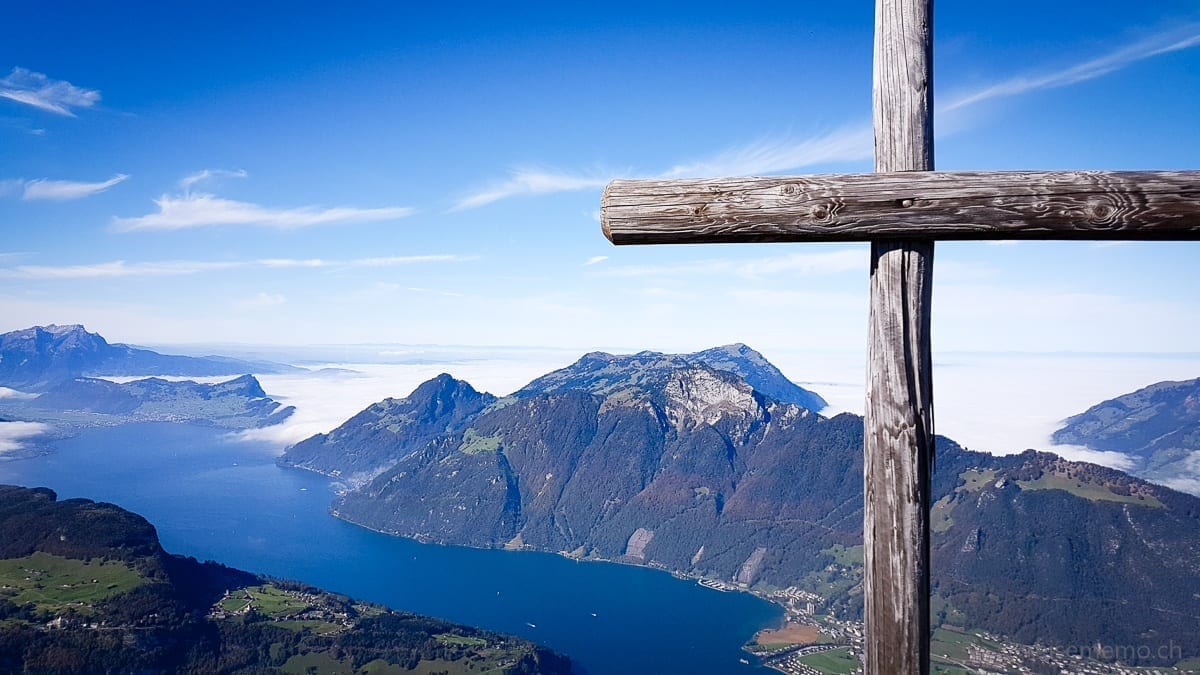 Normally, mountain or ridge hikes are fairly easy. But this one doesn't start all that gently. Shortly after setting out, we hit a rather steep descent to the Furggeli and follow that with a climb up the opposite slope to the Huser Stock that threatens to have our thighs go into lactic shock.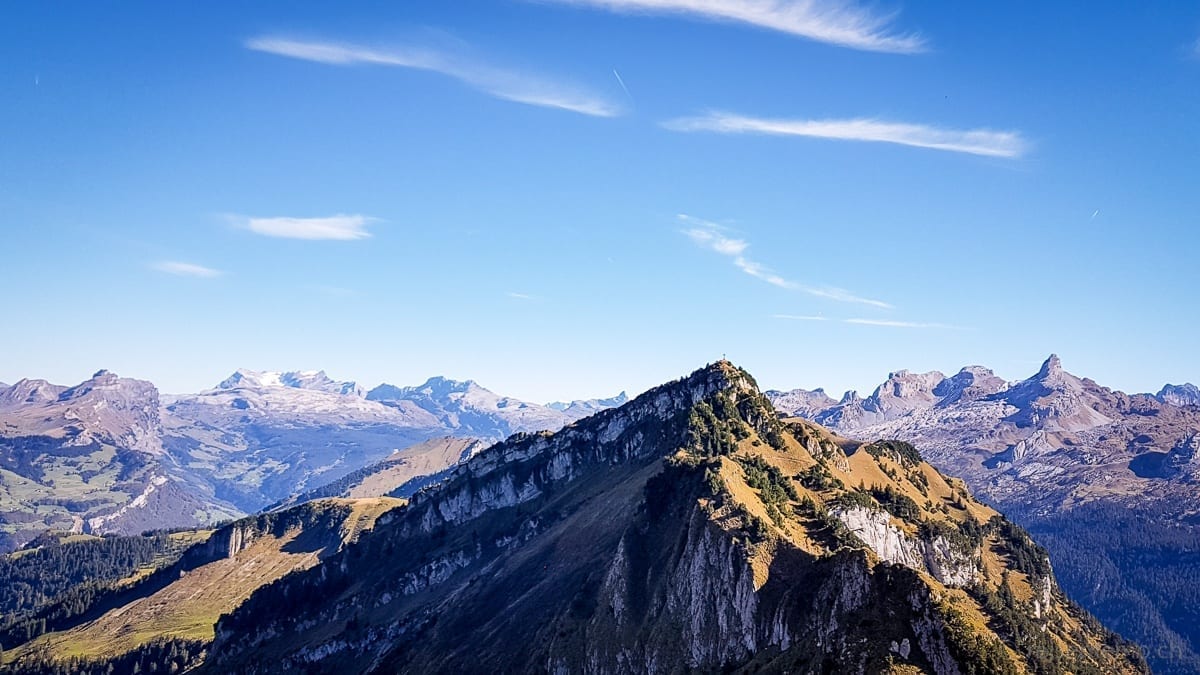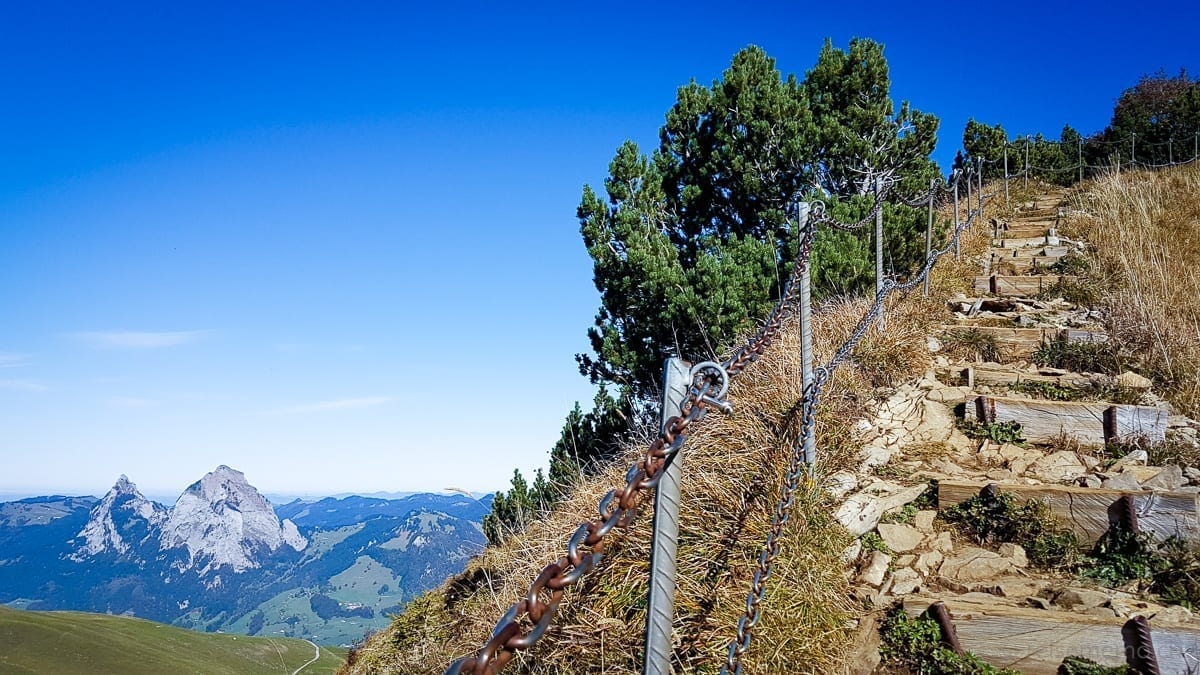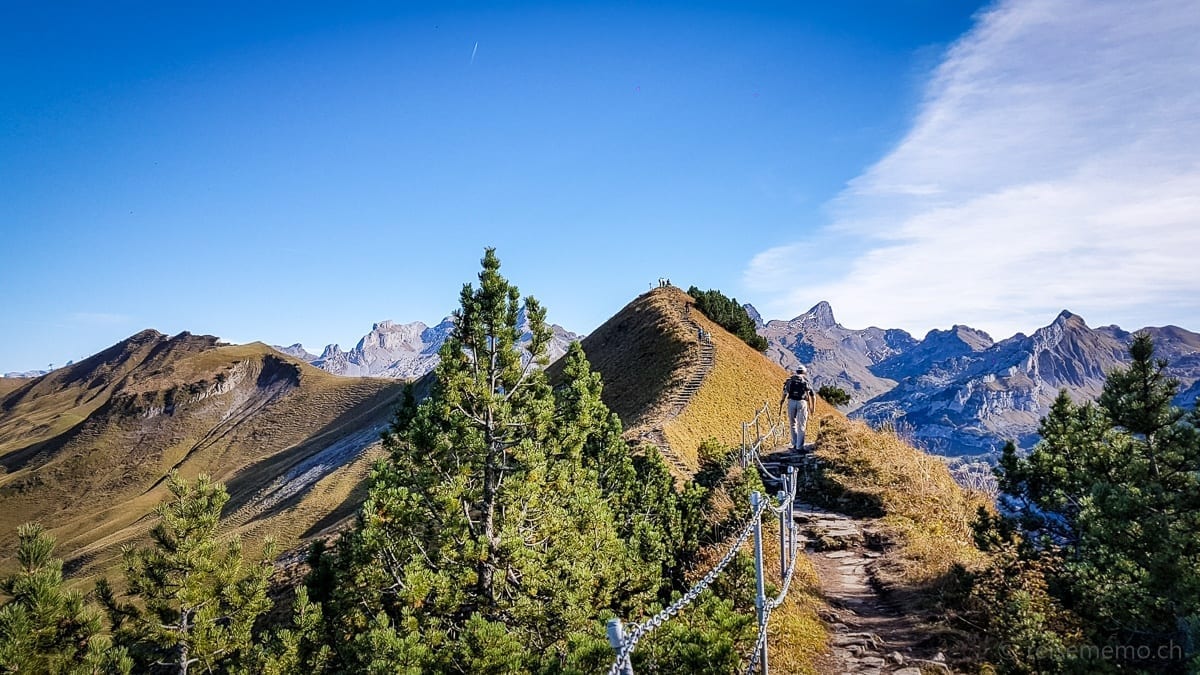 In parts, the ridge path is fairly steep and narrow. Fortunately, the tricky passages are secured with chains. We can thank Baumeler Reisen (a travel agent) for that! And yet, for this ridge hike, you still will need to be steady on your feet and not prone to vertigo, not to speak of owning a pair of sturdy boots.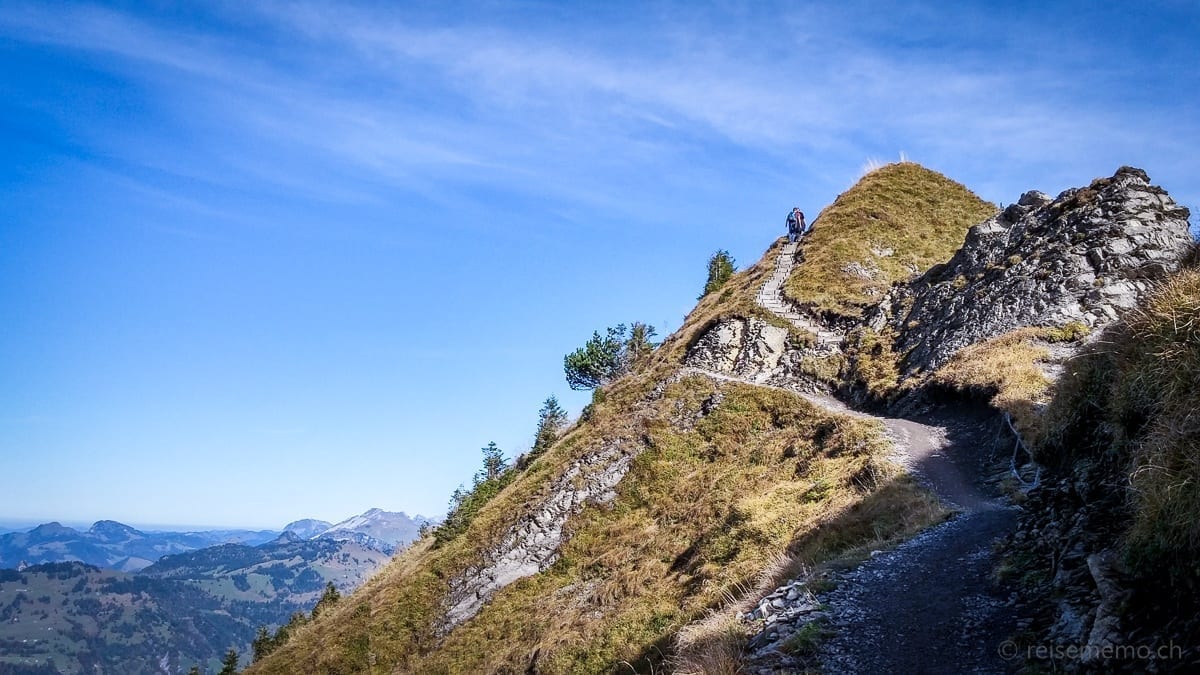 And so, after many ups and downs, we finally arrive at the Klingenstock, from where we cruise via chairlift back to the Stoos and next clatter all the way down to the valley bottom in the funicular.
No question, but this ridge hike lives up to its billing. We truly relished our outing. Those who can get away during the week would be well served to do the hike on a weekday, however. That's because on a weekend with good weather you can count on lots of "oncoming traffic." And that means there's only one way to do this hike then: single file.