The Swissôtel Dresden am Schloss was my home for the duration of my three-day Dresden visit. I have to confess that I slept better there than in my own bed. What better testimonial for a hotel could you wish for?
A spacious hotel room is tops on my list of things when I want to explore a city in a relaxed and cheerful mood. To me, small rooms quickly feel  like the walls are closing in, and they make me feel out of sorts. It was just my great good luck to have a plum of a room waiting for me on arrival in Dresden.
The hotel
The Swissôtel Dresden Am Schloss opened in 2012, built completely new from the ground up based on historical plans. It actually consists of five different facades which hide an interior complex of modern buildings arranged around courtyards, but on entering the lobby you would think you stepped into an intimate boutique hotel. And you would be right! But with its 230 rooms (197 Swiss Advantage, 24 Swiss Select, and 9 Grand class rooms) and 5 suites, you are also about to check into a good-sized hotel.
Swiss design, local charm
The well-appointed lobby was a first surprise, where homey Swiss pine scent mixed with a definite international ambiance.The large, Meissen porcelain-inspired peacock mosaic on the staircase proved a striking accent for the modern lobby design. Throughout the hotel, Swiss elements combine with uniquely Saxon touches. So, for instance, in every room you will find large wall tattoos that once again evoke Meissen porcelain motifs. The carpet pattern in the Swiss Advantage rooms alludes to the Villeroy & Boch hand-painted tiles in Pfunds Molkerei (dairy store), one of Dresden's emblematic tourist draws. Visit the in-house spa and you will be pampered in a wellness atmosphere the likes of which you only find in the Swiss Engadine.
Local lore also abounds. One anecdote has it that during excavations for the hotel foundation, they turned up oyster shells and broken Bordeaux wine bottles. These likely dated from Pöppelmann's time(17th century). He was court architect to Saxony's ruler, the Elector August the Strong. Pöppelmann was known for the extravagant feasts he put on in his home, which occupied the site the hotel sits on. What better foundation to build a hotel on!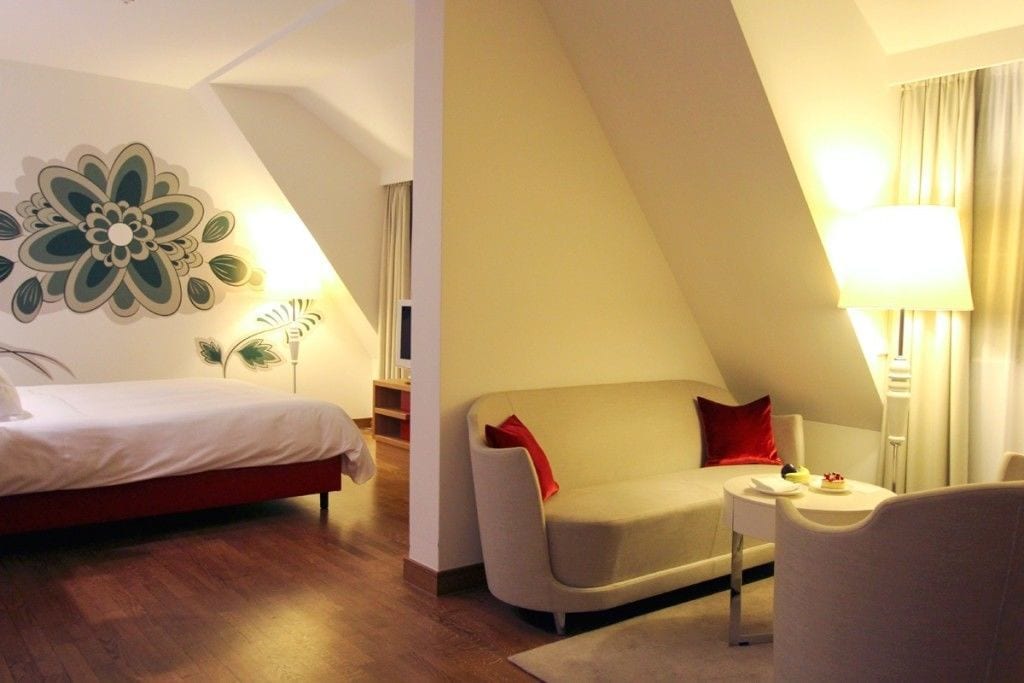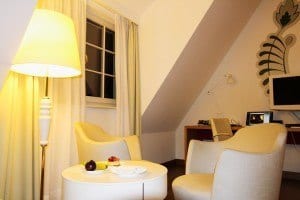 The Grand rooms
These high-ceiling rooms feel like lofts and thanks to their generous square footage offer a wonderful feeling of spaciousness.
The living area has a seating corner and a big work space. Next to it is the sleeping area, with the open bathroom off one end with a generous-sized sink area, free-standing bathtub plus shower and WC. The room leaves nothing to be desired. As I mentioned before, the bed had me sleeping better than at home. Corinne Miseer, the hotel's sales and marketing director, confided to me that I was not the first guest that slept on cloud nine in the big box spring bed. In fact, she had given the supplier's contact information to a few well-rested guests already.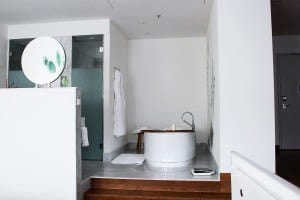 The suites
Still more spacious and boasting even loftier ceilings are the superlative suites. The aforementioned big wall tattoos in the suites carry over onto the window curtains here. One of the suites with free-standing bathtub recently was even ranked among the most beautiful hotel bathtubs with a view.
Restaurant Wohnstube
Kevin F. Furrer, the hotel's general manager, enthusiastically told me that on the Wohnstube ("Living Room") menu his guests can find a sophisticated combination of Swiss delicacies and Saxon specialties. But with a knowing smile he let on that the "Züri Gschnätzlet" (a Zurich-style sliced veal and kidney dish) was out of this world. To our regret, a tightly-packed schedule did not leave us with time to eat in the Wohnstube, not even  to indulge in a mid-afternoon tea break.*  On the other hand, we did get to enjoy the breakfast. At home, I make do with a morning coffee, but when traveling I treat myself to copious, leisurely breakfasts.This one was the best ever! I can only call it breakfast paradise. And the very friendly, attentive staff helps make it so!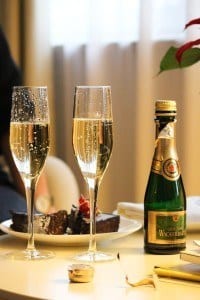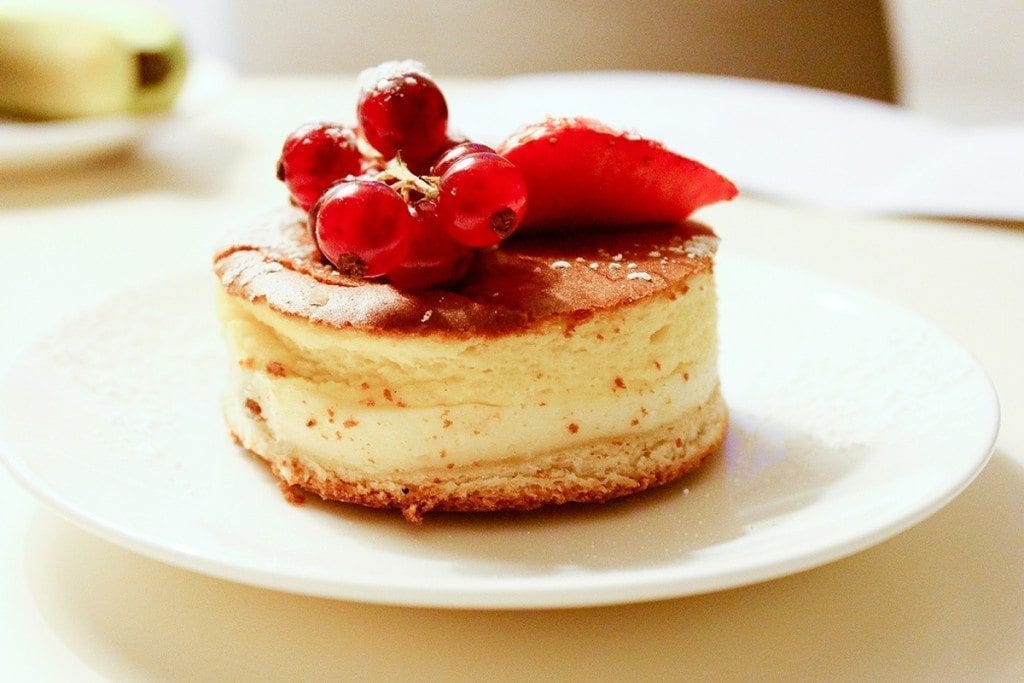 *The in-house pastry chef has to be a divinely-inspired magician. Not only is his Dresden Eierschecke a dream (pictured), so is the unforgettable, sinfully moist chocolate truffle cake that we had with a glass of champagne as a birthday aperitif …thank you and thank you!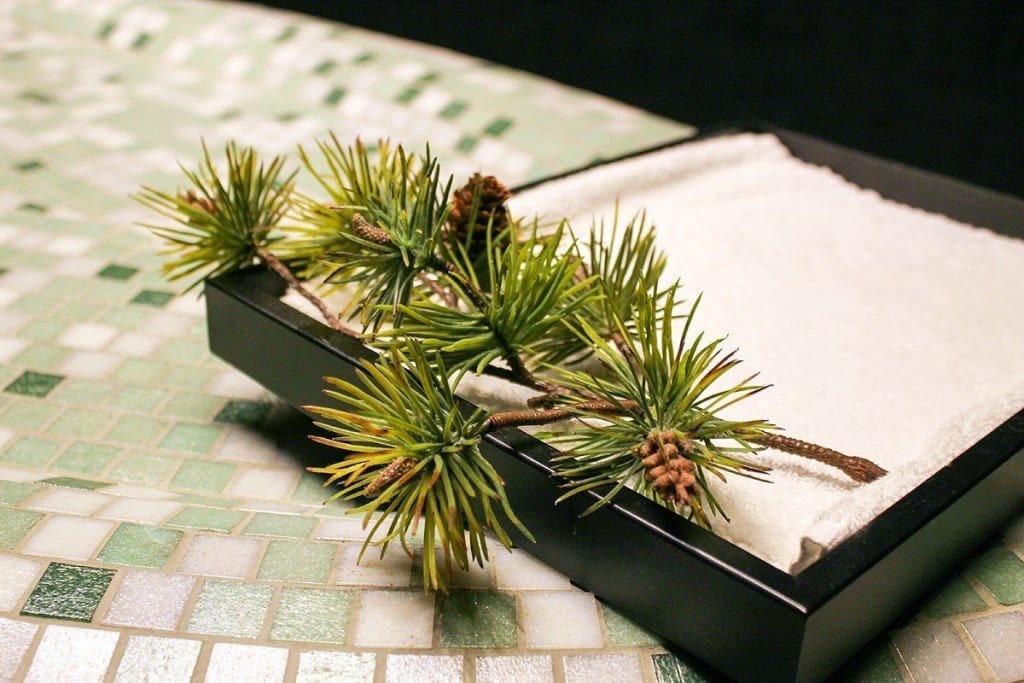 Pürovel spa area
Swiss pine scents greet guests upon entering the Pürovel Spa & Sport area, a fascinating combination of medieval construction and modern design. "Pürovel" is a Rhaeto-Romance derivation meaning "pure mountain stream." Only the lack of leisure time kept me from having a wonderfully relaxing time here. The medieval brickwork helps create a comforting quiet throughout the spa's various areas. The Pürovel Spa & Sport offerings include diverse treatments, massages, Finnish sauna and bio sauna, a gym and a relaxation room under the 15th century style vaulted ceiling.
The Swissôtel Dresden's location next to the Residenzschloss (August the Strong's palace) is ideal. Within easy walking distance are numerous points of interest, such as the Semperoper opera house, the Elbe river, the Frauenkirche baroque church, the Catholic Hofkirche cathedral, the rococo Zwinger palace, many museums and also lots of shops and a sheer endless pedestrian-only shopping promenade. During Christmas Advent time, it is just a stone's throw from the hotel to the Altmarkt, the site of Dresden's famous Striezelmarkt Christmas market, Germany's oldest and celebrating its 581st year in 2015.
Swissôtel Dresden Am Schloss, Schlossstrasse 16, 01067 Dresden
Check out prices and availability here:
More posts about Dresden
Dresden, Saxony's charming capital
Dresden's Christmas markets
My five Dresden To Do's
A great big thank you for the unforgettably warm hospitality to Kevin F. Furrer, General Manager, Corinne Miseer, Director of Sales and Marketing, as well as the entire team of the Swissôtel Dresden Am Schloss. Also a special thanks to Oliver Sefrin, head of press and public relations for Germany Travel and Markus Veit, associate for national and international markets, as well as Christoph Münch, manager for international marketing, press and public relations with Dresden Marketing.